Posted on
Mon, Oct 17, 2011 : 9:20 a.m.
AnnArbor.com launches photo store for selling prints
By Jen Eyer
Have you ever seen a photo on AnnArbor.com and thought you might like a copy?
The process for ordering prints is now simple, with the recent addition of an online photo store.
Every photo gallery now contains a link to the photo store, where many of our published photos are available for purchase in a variety of sizes.
Not every photo we publish is available for reprints, so when you see a photo you like, you'll have to browse our recent uploads in the photo store to see if it's available. Check out the photo store at Annarborcomphoto.photoshelter.com.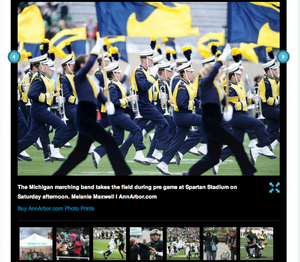 Speaking of photos, you may have noticed a change recently in how we display photos on AnnArbor.com. They're bigger, sharper and more prominent.
We know readers value photos. Our site statistics, usability studies and good, old-fashioned reader feedback all have told us this.
Over the past few months, we have gradually increased the number of large photos embedded in our stories — ones that span the entire width of the story well.
Now, we have added our own photo gallery platform, which gives us some additional features that we didn't have with Flickr, the platform we previously used.
The most valuable new feature is the addition of photo captions within the gallery. Readers also have the option of viewing photos full-size in a "lightbox," by clicking on any photo within a gallery. Once in the lightbox, you can click through the entire gallery.
If you enjoy looking at AnnArbor.com photo galleries, you can always find the latest ones in the right rail of the homepage, about halfway down the page. And you can find the latest three from each section — News, Sports and Entertainment — plus our Photo of the Week poll on our new Multimedia page.
Jen Eyer is the director of audience engagement for AnnArbor.com. Reach her at jeneyer@annarbor.com or (723) 623-2577.