Posted on
Sun, Nov 8, 2009 : 9 a.m.
AnnArbor.com's first floor community space opens to the public
By Stefanie Murray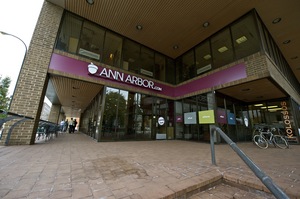 Ryan Stanton | AnnArbor.com
After months of planning and a little bit of renovation, the first-floor community space at AnnArbor.com is finally open to the public.
From the beginning, we've openly shared our unique plans for this space. We wanted it to not only be a reception area where our readers could stop in and buy a subscription to the print paper or place an ad, but a kind of "third place." A spot to gather and talk about what's in the news. A place for community groups to convene. A space to stop by and meet with a reporter, editor or contributor for AnnArbor.com.
I don't think anything like this exists anywhere else in the news industry, but it's a critical part of the mission of AnnArbor.com to be by, of and for the community. We want people who live in and around the Ann Arbor area to feel an ownership stake in what we're doing — and what better way to encourage that than to throw our doors open to the public?
Ryan Stanton | AnnArbor.com
This summer, AnnArbor.com took over nearly 2,000 square feet on the first floor at 301 E. Liberty St., where Primo Coffee was before it closed. The storefront was refurbished to make it a flexible and comfortable space. We have several tables with chairs set up as workstations as well as some plush seating, including a couch. There's wireless Internet available and coffee, too. We plan to rotate local coffee companies every couple months; the first one featured is Bearclaw Coffee. A donation of $1.50 a cup to benefit our Warm the Children program is requested.
We have a handful of computers set up so folks can browse AnnArbor.com and get help learning how to use the site. We're also working with the Ann Arbor Art Center to set up a public art display that will show off local artists.
Local community groups can reserve use of our conference room, which seats about a dozen people.
The Community Team for AnnArbor.com will regularly work on the first floor, so during the day you can stop by and likely find one of us around to chat. The Community Team includes me, Cindy Heflin, Edward Vielmetti, Jen Eyer and Jessica Webster. Customer advocate Elizabeth Palmer will work on the first floor to greet and assist folks as they arrive; she'll also coordinate reservation of our conference room.
Over the next several months, we hope to use this first-floor space as a way to step up our interaction with the community. We've got lots of ideas for various events and discussions we'd like to hold there, from open houses to debates to educational brown-bag sessions.
Our community space will be open to the public every week day between 9 a.m. and 5:30 p.m. We welcome you to stop by and visit.
Stefanie Murray is the Community Director for AnnArbor.com. Contact her at StefanieMurray@AnnArbor.com.