Posted on
Thu, Jun 30, 2011 : 5:55 a.m.
Ann Arbor's 16 Hands gallery leaving longtime Main Street space
By Janet Miller
The 16 Hands art and gift gallery on Main Street in the heart of downtown Ann Arbor will move to a new location in Kerrytown Market & Shops at the end of July.
The poor economy has slowed sales and made it impossible to stay on Main Street, where rents are higher, said 16 Hands co-owner Jill Damon. The gallery has been on Main Street for 20 years and was around the corner on Washington Street for 15 years before that.
The gallery will share second-floor space with Hollander's Kitchen & Home in Kerrytown, Damon said. Hollander's will maintain its kitchen goods and cooking class area but will consolidate its home goods area, giving 16 Hands about a third of the space, Damon said. It will be slightly less than the 2,250 square feet the gallery now has on Main Street, Damon said.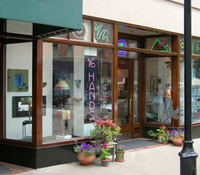 Courtesy of 16 Hands
Hollanders expanded with the kitchen and home goods store two years ago but has had a long-time Kerrytown presence selling decorative and art papers and bookbinding supplies in a first-floor location.
Damon said 16 Hands will stay open on Main Street until after the July 20-23 Ann Arbor Art Fair and then will close for the month of August to move. It will re-open the first week of September, she said.
The 16 Hands lease for the space at 216 S. Main is up at the end of July, Damon said.
"We couldn't afford to stay here. We needed to look for a better alternative," Damon said.
Landlord Jim Curtis offered to reduce rent, but it still wasn't enough to make the business viable, Damon said.
She said she's known since December that 16 Hands would be moving. Damon said she has reduced staff over the past year but expects to increase hiring with the move.
Curtis, whose company Curtis Commercial LLC owns the property of 17 downtown retailers including the Parthenon Restaurant, the Real Seafood Co., Kilwin's and the new Cherry Republic, said he will take his time finding the right tenant for 216 S. Main.
He said it would not be a restaurant. Downtown has enough bars and restaurants, he said.
"We need balance, we need a cross section," he said.
Curtis said he's already had interest from a number of restaurateurs, whom he has turned away.
Instead, he said, he'd like to see retail, such as a clothing or jewelry store, an art gallery or a shoe shop.
The 16 Hands space will be Curtis' only downtown vacancy. Barclay Gallery ended its unexpired lease and The Himalayan Bazaar opened in May.
Janet Miller is a freelance writer for AnnArbor.com.