Posted on
Thu, Jul 11, 2013 : 5:58 a.m.
2 downtown Ann Arbor housing projects well-received at public meetings
By Lizzy Alfs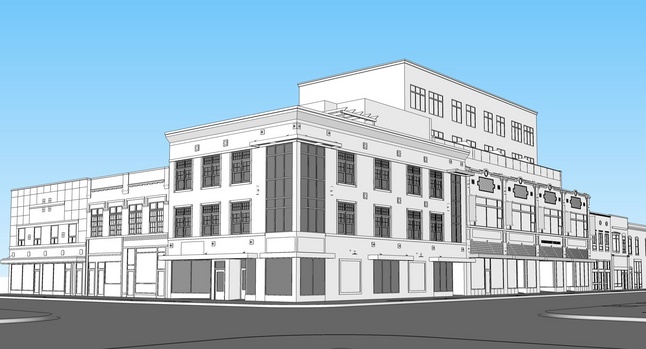 From J. Bradley Moore Architects
Only a handful of community members weighed in Wednesday night on
plans
to construct apartments or condos on top of two downtown Ann Arbor buildings, but the feedback was positive.
"This is a wonderful contribution to downtown and it's going to be a very desirable place to live," Ann Arbor resident Ray Detter told the projects' architect, Brad Moore.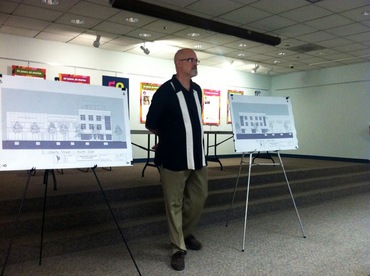 Lizzy Alfs | AnnArbor.com
Moore, owner of Ann Arbor-based J Bradley Moore & Associates, detailed the plans for two separate housing projects during back-to-back citizen participation meetings on Wednesday night. About a dozen people attended the meetings, including the building owners and Ann Arbor city councilmembers Sabra Briere and Jane Lumm.
One project calls to add two floors of residential units along with a rooftop patio to the existing one-story Running Fit building at 121-123 E. Liberty Street.
Meanwhile, the new owners of the mixed-use building at 210-216 S. Fourth Ave., adjacent to the Running Fit building, wants to add three stories of residential units on top of the existing two-story building.
Both proposals call to restore the buildings' original facades, and the plans require approval from Ann Arbor's Historic District Commission.
"We're hoping the combination of the two projects transforms Fourth Avenue, which has been so hard to pull back from where it was in the (1970s)," Moore said.
121-123 E. Liberty proposal
The building at 121-123 E. Liberty St. was a three-story building until a fire in the 1950s destroyed two floors. It's located in the D1 zoning and the Main Street Historic District.
Joseph Tobianski | AnnArbor.com
Running Fit owners Randy Step and Steve Angerman want to restore their building to a three-story structure with six residential units occupying the top two floors. There would be a partial fourth floor for an outdoor patio.
Moore said the units would range in size from 530 square feet to 915 square feet, with five one-bedroom units and one two-bedroom unit. Parking is not included in the plans.
Moore said they have not decided whether the units would be marketed for lease or for sale, and unit prices haven't been determined.
"We're trying to keep these in the more moderate price range," he said.
The enamel steel panels on the building's facade would be replaced with brick, and Moore said there would be an opportunity for public art — like a mosaic tiles or modern artwork — at street level on South Fourth.
The partial fourth floor would be set back from the building's facade, and would be surrounded by a green roof with vegetation. (Similar to Moore's Big George's project)
"The idea would be to create some outdoor recreation space for the people who live here on that rooftop," Moore said.
If approved, Moore said construction could start in summer 2014 and it would take about nine to 13 months to complete. Briere asked that the developers keep the Ann Arbor Art Fair in mind if the project is built, so that construction doesn't block the sidewalk during the event.
210-216 S. Fourth Ave. proposal
A fire in 1960 caused significant damage to the building at 210-216 S. Fourth Ave., which was occupied by Montgomery Ward & Co. at the time.
Courtney Sacco | AnnArbor.com
The aluminum facade was installed on the two-story building after the fire. (See pictures of the fire)
The building's new owners, Joe Barbat and David Ebner of Barbat Holdings LLC, want to restore the original Montgomery Ward glazed terracotta facade and construct three floors of residential housing set back from the facade. If they can't get the glazed terracotta materials, they intend to construct a brick facade.
Moore said they contacted Scio Township-based Motawi Tileworks about incorporating its tiles into the new facade.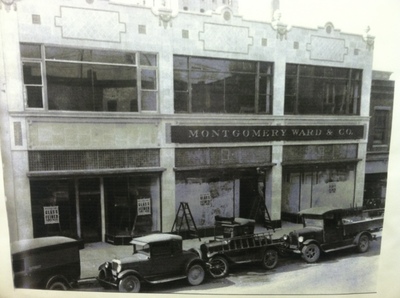 "We would like to incorporate some local artisans on the project," he said.
Barbat and Ebner also plan to rename the 20,000-square-foot building from the Town Center Plaza to the Montgomery building.
"I think it will be much more attractive with the shape of the old building in place," Moore told meeting attendees Wednesday night.
Unit sizes haven't been determined, but Moore said it would be studios, one-bedroom units, and two-bedroom units. There would be about 30 units that would be marketed for sale or for lease.
Moore said they are contemplating the possibility of a partial six floor with a green roof that residents could use for an outdoor patio.
If approved, Moore said construction would take about 14 to 15 months.
Detter told Moore that both proposals are "good projects" for downtown Ann Arbor.
Added Briere: "I think this has the potential to really alter the discussion for how to use downtown and how to build in the historic district."
Daniel Brenner | AnnArbor.com
Lizzy Alfs is a business reporter for AnnArbor.com. Reach her at 734-623-2584 or email her at lizzyalfs@annarbor.com. Follow her on Twitter at http://twitter.com/lizzyalfs.