Posted on
Sun, Dec 27, 2009 : 5:42 a.m.
Doug Fox, chair of Detroit's 2010 auto show: Curiosity may drive consumer interest
By Nathan Bomey
Welcome to the 2010 Detroit auto show, sponsored in part by you, the taxpayer.
This year's North American International Auto Show marks the first time in the event's 23-year history that taxpayers own a majority stake in two major automakers, General Motors and Chrysler.
After GM and Chrysler emerged from government-funded bankruptcy last summer, their futures will be defined by their ability to deliver vehicles that consumers can't pass up.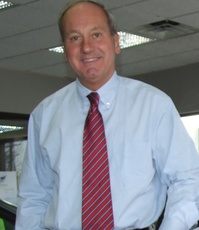 Consumers' curiosity in that process may drive interest at the show this year, said Doug Fox, president of Ann Arbor Automotive and chairman of the Detroit auto show.
"I think there will be a strong interest level in, 'Hey, let's see what these new Chryslers look like. Let's see what these electric vehicles look like. Let's see the final rendition of the (Chevrolet) Volt. Let's see the new Fords," Fox said.
Whether GM and Chrysler can convince consumers that they're positioned for success is an open question. Chrysler, for one, is already inviting skepticism with its decision not to introduce any new vehicles at the show.

But for the Detroit Auto Dealers Association, which organizes the show, 2010 offers a chance to breathe a sigh of relief.
The show, which is open to the public from Jan. 16-23, is likely to stay at Cobo Hall in downtown Detroit after officials struck a deal this summer to invest $288 million in renovations and expansion.
2010 Detroit auto show

When: Jan. 11-12 press preview; Jan. 16-23 public show
Where: Cobo Hall, downtown Detroit
Attendance: Projected more than 700,000
Media members: About 5,500 in 2009
Manufacturers: About 55
Online: www.naias.com


And the show will still attract thousands of media members, a reminder of its status as the world's premier automotive event even as other global auto shows struggle to attract attention and interest.
The auto show is likely to have about 55 manufacturers this year, up from 50 in 2009. And Fox projected that the show would attract more than 700,000 visitors this year, up from 650,000 in 2009.
Fox recently spoke with AnnArbor.com's Nathan Bomey:
AnnArbor.com: Are you pretty satisfied with the level of participation in the show this year?
Fox: Oh, without question. I mean, '09 was a very challenging year for us. Auto shows all over the world have been challenged.
We'll be up about 10 percent over last year with just number of manufacturers, so that's a real positive for us. We're real excited about that.
What kind of mood do you expect to see at the show this year given everything that's happened in 2009?
Almost a rebirth mood, especially with our domestic brands. I think we're going to see some major business announcements as well as product announcements.
There will be a very strong new facet involving government officials visiting the show. (Speaker of the House) Nancy Pelosi has already indicated that she will attend. Ray LaHood, the transportation secretary, will attend. Majority Leader (Steny) Hoyer will attend. And there is talk of a delegation of senators and congress people attending.

It isn't just the bridge loans. You've had a lot of grant monies that have been dedicated to advanced electrification engineering.
The government officials are interested in seeing the progress and development of these new components.
Any concern that it could be turned into a political stage this year?
We do everything we can to make certain that doesn't happen during press days, the 11th and 12th. Those days are dedicated to our customers - the manufacturers.
We're just a stage provider to help them show their product and make statements. And we really will strive very hard to make certain that politics don't overshadow that.
What should we expect to see on electric vehicles and other alternative propulsion technologies?
It's all about this new personal mobility sector that (Nissan's) Carlos Ghosn believes is going to be a very, very strong growth sector in the near future.
You'll see startup companies - some that you've heard of, some that you haven't heard of.
What's the latest on keeping the show at Cobo?
We're very excited that the Michigan Legislature passed the $288 million package to fund expansion and renovation of Cobo. Some of that work has already started.
Next year the authority will really be doing some significant work.
I understand there will be a request for proposal for renovations, and then the next step after that will be the expansion into Cobo Arena. That's probably two years away.
What does the show mean to dealers?
The big impact is the emotional excitement that's created around the auto show in January. All the hype that goes around it - all the TV, radio, Internet coverage - translates into floor traffic.
Many manufacturers offer discounts, auto show rebates. This year will be no different. You'll see auto show rebates that come forward from the manufacturers.
Do you think you'll have strong attendance this year?
Last year we certainly had a challenge with the gate. There's no question about that. We expect the gate to be up this year for a number of reasons.
The feeling that we have some economic stability seems to be prevalent. Last year there was a feeling that the sky was falling. Every time we looked at the news, every time we went online, we saw more bad news. It doesn't seem to be that way anymore. We seem to see some stability. I think consumers feel that.
People may have skipped the auto show last year because of all the publicity and everything.
I think those folks will be back. In addition to that, the news that General Motors, Ford and Chrysler have - with the importance of those brands in southeastern Michigan - I think there'll be a strong interest level in it.
Contact AnnArbor.com's Nathan Bomey at (734) 623-2587 or nathanbomey@annarbor.com. You can also follow him on Twitter.