Posted on
Mon, Jan 11, 2010 : 10:36 a.m.
300 University of Michigan employees will move into ex-Pfizer site
By Paula Gardner
The University of Michigan is identifying the first wave of offices that will occupy its 2-million-square-foot North Campus Research Center, formerly the Pfizer campus in northeast Ann Arbor.
Most of the offices are moving from leased space nearby, according to a news release. About 300 employees will be making the move.
"All of the groups chosen for the initial move are involved in supporting U-M research, whether by providing services to researchers or raising money to fund research. As researchers begin to move to NCRC in coming months and years, they will benefit from having these research support functions close by," the release said.
Units expected to move include employees from:
The Michigan Institute for Clinical & Health Research, now based at Domino's Farms.
The Medical School's Institutional Review Board, now based in the Argus Building on West William.
The Office of Medical Development and Alumni Relations, now based at 301 E. Liberty.
The development office for the U-M Comprehensive Cancer Center, also based at 301 E. Liberty.
Clinical trials offices for the U-M Comprehensive Cancer Center, based at 2310 Commonwealth in Plymouth Park.
Clinical Research Billing, based in offices at 715 E. Huron, just east of South State.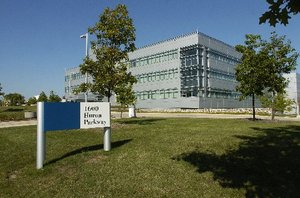 Lon Horwedel | AnnArbor.com
Moves will begin in the spring, representing the first wave of U-M employees transitioning to the facility, which U-M bought in June 2009.
"We are delighted faculty and staff are moving in to what we know will become a locus for innovation and research," U-M President Mary Sue Coleman said in a press release. "They are the first of thousands who will help refine research at Michigan in the years to come."

The first buildings to be occupied will be offices on Huron Parkway, as identified in earlier reports. No occupants have been identified yet for any of the specialized lab space on the NCRC campus.
U-M says some of the leased space vacated by the offices moving to the NCRC will be retained, while some of it will be allowed to expire.
Meanwhile, a 300-space parking lot at the southern end of the NCRC property will be up and running late this month in preparation for the employees' moves.