Posted on
Thu, Feb 4, 2010 : 6:01 a.m.
400-seat Asia City Restaurant forming new 'Chinatown' hub in Ypsilanti Township
By Janet Miller
Xingshou Wang was thinking big when he planned construction of Asia City Restaurant on Washtenaw in Ypsilanti Township.
With seating for close to 400 and 15,000 square feet, it will be one of the largest Chinese restaurants in Michigan when it opens this weekend.
Next door of the Washtenaw Avenue restaurant is Hua Xing Asia Market, with 27,000-square feet, one of the largest Chinese grocery stores in Michigan.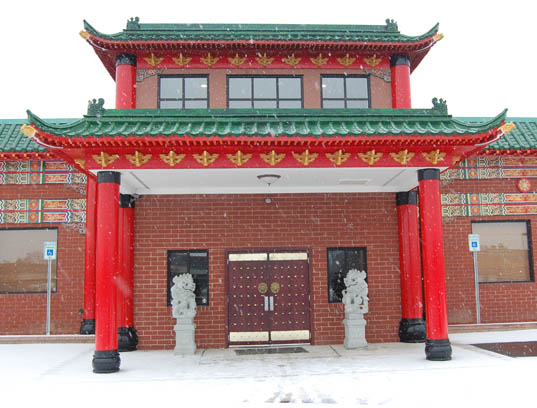 Janet Miller for AnnArbor.com
But Wang's plans go even bigger. He hopes his market and now his restaurant will be the center of what will some day be a small Chinatown, something he sees when he visits New York and other big American cities, but missing in Michigan.
He owns eight acres of land on the south side of Washtenaw Avenue, between Golfside and Hewitt, and wants to attract more Asian businesses to the area.
For now, Wang is focused on opening Asia City Restaurant, which cost more than $1 million to build and furnish. It replaces Chinese Buffet 2, which Wang owned and operated for 15 years before he closed it two years ago to begin planning Asia City Restaurant. The old 7,000-square-foot building was razed to make way for the new restaurant.
Having a market and a restaurant side-by-side makes sense, said Steven Xiao, general manager of Asia City. "There's a synergy. The market can furnish the restaurant with food and supplies." This will include the live seafood that arrives weekly.
The new venture is twice the size and markedly different from Chinese Buffet 2, Wang said through Xiao, who acted as an interpreter.
Chinese Buffet 2 was not authentic Chinese food, Wang said. It catered more to American tastes. "Now, everything will be authentic," he said.
While Asia City Restaurant will eventually include a small buffet for customers looking for more Americanized Chinese fare, the new menu will focus on fresh and authentic Hong Kong-style dishes, said Hody List, a local Realtor who has worked with Wang and who is a friend of the family.
"Hong Kong-style food is like when Europeans talk about French cooking," she said. "It's the best. And it's much lighter."
Wang said he expects to have 30 full- and part-time employees, including two pastry chefs hired from California.
With its winged roof lines, columns, red exterior and front door decorated with giant round nail heads, the design was inspired by the Chinese Imperial palace the Forbidden City in the middle of Beijing, Xiao said.
Asia City Restaurant, designed by Novi-based architect Jerry Wu, took 1½ years to build. It was important to set the upscale tone at the chandelier-lit entrance, Xiao said.
The towering waterfall pays homage to a Chinese fairy tale a monkey who escorts a monk on his quest for the meaning of life.
The interior includes gilded dragons, tanks for lobster and other live seafood, opulent décor and two red velvet covered stages that Wang hopes will convince area Asian families to see Asia City as a gathering place for weddings and other occasions.
Wang was a restaurant owner in the south of China before he came to the United States in 1981. He worked with family in the restaurant business in New Jersey and set up his own place in Buffalo before moving it to Dearborn. Worried that carmakers were headed for hard times, he moved his business to Washtenaw County, figuring its side-by-side university towns would create a solid customer base.
"It was a better business opportunity," Wang said.
The market and restaurant are owned by Wang and his younger brother, Hingching Wong, and nephew, Kequan Wang.
While Asia City Restaurant wants to become a magnet for the area's Asian community, it also hopes to attract anyone looking for an authentic Chinese meal, Xiao said.
"It will be like it is at the market. There are a lot of Americans who come in there, too. We'll give Americans a real good taste of what Chinese food is."