Posted on
Sat, Jul 23, 2011 : 5:57 a.m.
5 disconcerting cultural side effects of Borders' liquidation
By Nathan Bomey
Borders plans to liquidate — and the economic impact is obvious. Some 10,700 jobs gone, 399 empty stores, millions of dollars lost for creditors.
But the cultural implications are significant, too.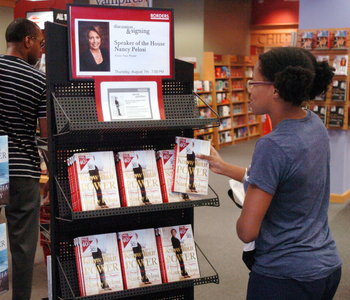 File photo | AnnArbor.com
Here are five side effects of Borders' liquidation plans that shouldn't be overlooked:
1. Less reading.
Consumers who bought books at Borders won't necessarily buy the same number of books through other sources, such as Barnes & Noble or Amazon.com, said Michael Norris, a publishing industry analyst with Simba Information.
"It doesn't work that way," Norris said. "Fewer people will buy books because there's not going to be an immediate transition for people. The money that consumers spend on books is money that could be spent on other consumer goods. It's not like the rent or an electrical bill. It's an optional form of entertainment."
2. Fewer social hangouts.
The loss of Borders means fewer places to chat with your friends, casually browse the Web or sip coffee with a colleague while considering a purchase.
When Borders invented the superstore concept for bookstores, in fact, the company encouraged people to hang out as long as they wanted to.
"It's like the last safe social escape for retail," Borders President Mike Edwards said in a rare interview in May. "I don't think people want to hang out or relax in a Target."
3. A faster transition to digital.
Fewer bookstores will lead to more electronic book sales and more Internet-based sales of physical books.
"The technology and the industry is all in transition," said Jim McTevia, a turnaround consultant with Bingham Farms-based McTevia & Associates.
4. Fewer places to discover books.
Regular readers like to tell stories about browsing shelves at the bookstore, discovering an author, reading a book and going back for more. It's harder to replicate the browsing experience on an e-reader or online.
As of March, Borders still had 10.7 percent market share in the book store industry, according to a report by research firm IBISWorld.
5. Fewer venues for authors.
On the flip side, writers will have fewer places to get their books discovered.
"The real story is all these amazing writers out there — where are they really going to be able to show their books in a way that continues to inspire society?" Edwards said in May. "That's what the bookstore is about."
Contact AnnArbor.com's Nathan Bomey at (734) 623-2587 or nathanbomey@annarbor.com. You can also follow him on Twitter or subscribe to AnnArbor.com's newsletters.