Posted on
Thu, Jan 27, 2011 : 5:47 a.m.
5 free tools to monitor your business reputation online
By Kim Kachadoorian
In business it is vital to know how your company is being perceived out in the "wild, wild west" of the internet. You can do some simple monitoring for free or at a low cost, or you can buy expensive software (recommended for larger companies) or you can hire a monitoring company to do the work for you. This will vary with your needs and company size.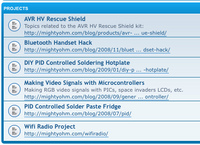 Today let's take a look at some of the free options for the business listening process — links for each tool are within the title of the product.
I use both Google and Yahoo, because they return different results sometimes. I use them to monitor what is being said about me, marketing friends, my brand and companies I used to work for and their competitors. In a few quick minutes I can scan the surface of content, decide what to follow up on and move on.
If you would like to learn how to use alerts effectively I have posted some training lessons on my blog: Lesson I — the basics and Lesson II — a bit more intensive study

Twitter
First find out if people are using a hashtag for your company. For example, the hashtag for Ford is "#ford". So if you put in #ford in the search function of Twitter, you will get all the recent tweets about Ford from Ford and from other users. You do not need a Twitter account to search — however I recommend getting one as soon as you figure out how to use it for your business and retweet (RT) great comments by users.
Second read the tweets! Follow the links — you might be surprised at what you find.
Delicious is a great simple way to monitor various topics of interest as well as to see what is trending quickly. If you have a service or product that can adapt quickly to a new market segment this might be a way to jump ahead of your competitors

Social Mention
This is similar to the Google and Yahoo alerts but also tracks other formats. On the drop down of "type" pick all — so you can monitor a variety of areas in one click.
Track mentions of your business in user boards and forums. Boards and forums truly are the "wild wild west" — participants often use more vulgarity and trash talk more freely. Do not be dismayed by what is written in these arenas; think of them as all night bar conversations. In the case of forums and boards, I not recommend contacting the "talker" in channel — usually it is better to contact them privately if at all. In this instance, being a watcher of conversation might be the way to go. This is a good way to track product conversations, often you may see patterns or wish lists — product innovation trends from real users is a win-win.
Monitoring your reputation is hard work without the right tools. The goal of this post is to make it a little easier with search efforts delivered to you. There are other monitoring tools; I picked a few of my favorites to get you started. Remember if someone comments about your business or product, you should know about it.
Kim Kachadoorian also known as the "Geeky Marketer" is an "in-transition" marketer looking for her next gig. In the mean time she maintains her Geeky Marketer website and blog as part of her DNA and she maintains a job hunting blog — Jobs in A2. She found that helping others was a good way to use her talents and keep her skill set fresh. She'll be sharing them with readers of AnnArbor.com's Business Review on a regular basis.