Posted on
Sat, Oct 29, 2011 : 5:58 a.m.
University of Michigan still adding jobs for expanded children's, women's hospital as transition nears
By Nathan Bomey
Building, planning, hiring, training, cleaning, digitizing, moving, transitioning — and hiring again.
The 6,000 University of Michigan Health System employees who will work at the new 1.1 million-square-foot, $754 million C.S. Mott Children's Hospital and Von Voigtlander Women's Hospital have a lot on their mind.
And their team is still getting larger.
The hospitals — which will be shown off to the media Nov. 1, open to the public Nov. 6 and opened to patients Dec. 4 — reflect one of the largest construction projects in the history of the state.
The gigantic building also equals a major driver of job growth — and economic stability — for the Ann Arbor area job market.
The health system has already added the equivalent of 373 new full-time employees to staff the new hospitals — which will effectively double in size 42 years after the current facility opened.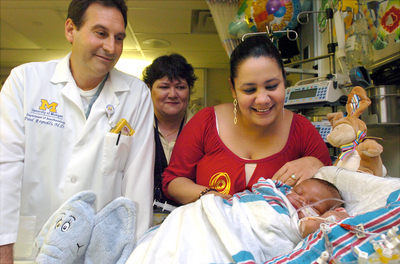 File photo | AnnArbor.com
"We have been hiring since last fall for critical positions," said Robin Damschroder, interim chief financial officer of the U-M Health System.
The hospital expects to hire another 127 employees within the next several weeks — including some after the building opens, said Loree Collett, associate hospital administrator and operational lead for the expansion project.
Jobs left to be filled include janitorial positions and clerical workers. Apply at umjobs.org.
But the hospital expects to continue adding some jobs as needed after the new hospital opens and as individual units analyze their workflow.
One of the final steps to get the hospital ready to come to life is janitorial work and sterilization of operating rooms.
Among the new jobs that have already been added are:
--Medical personnel, including physician assistants, nurses of many kinds, phlebotomists, infection control liaisons and anesthesiologists.
--Pharmacists and new medicine managers, who will personally deliver drugs from the central pharmacy to patient rooms, double-checking to ensure accuracy and correct dosage.
--Non-medical personnel such as food preparers, information technology specialists, security personnel, plumbers, electricians and mechanics.
Executives are especially proud of the hospitals' new kitchen — which will be able to prepare fresh food instead of "what we consider a reheating of food," which is what "our kitchen really does" today, Collett said.
"We will continue with on-demand food service," Collett said. "We don't deliver food to kids at 9, noon and 5. We deliver food when kids are hungry."
One of the new hospitals' key features is private rooms for every patient. Collett said that with semi-private rooms, patients sometimes need to be shifted to different rooms to make way for new patients, causing extra housekeeping and clerical work that can be avoided in the new setup.
"In a private-room hospital, we can reduce a lot of that," Collett said.
At the same time as the hiring push, the hospitals are also completing a massive training effort.
Moving to a new hospital is not like moving a normal corporation to a new office. Doctors, nurses and clerical staff need to know where supplies are located, where rooms are positioned and how to use new technologies as soon as they move into the new facility.
So staff members have been training at the new hospital in stages — part of a transition planning process that has lasted nearly two years.
It's all leading up to a 12-hour period on Dec. 4 when virtually all patients and essential equipment will be transferred to the new facility.
The hospitals have created documents that analyze each patient's needs during the move — including equipment that must be moved alongside the patient and medical personnel who must accompany patients.
The hospitals expects virtually all of their 6,000 employees to be working at least one shift involved with the transition day.
To make the move seamless, one "move group" will be stationed at the old hospital, one along the indoor pathway from the old hospital to the new hospital and one at the new hospital.
"The planning has been extraordinary, so I don't anticipate any problems," said Val Castle, chair of Mott's Department of Pediatrics and Communicable Diseases.
AnnArbor.com reporter Kellie Woodhouse contributed to this story.
Contact AnnArbor.com's Nathan Bomey at (734) 623-2587 or nathanbomey@annarbor.com. You can also follow him on Twitter or subscribe to AnnArbor.com's newsletters.