$5M: Economic impact from national electrical training program that started Saturday in Ann Arbor
Posted on Sat, Jul 31, 2010 : 8:07 p.m.
Daylong crowds Saturday on downtown Ann Arbor streets signal a busy week at area hotels and restaurants as the first of two consecutive national trade conventions descend upon Washtenaw County.
About 2,000 participants in the National Training Institute, an apprenticeship and training program for the electrical industry, are in the city this week for programs mostly held on the University of Michigan campus.
Then, on Friday, the 600-person UA training program will return to Ann Arbor and its classes for plumbers and pipefitters at Washtenaw Community College.
Both events are major economic forces in the county, keeping spending active in the community after two other recent events: the Ann Arbor Art Fairs and an ironworker convention in July.
The NTI group - which fist came to Ann Arbor in 2009 - will generate over $5 million in economic activity for the county, said Mary Kerr, president and CEO of the Ann Arbor Convention & Visitors Bureau.
"It was very successful last year," she said.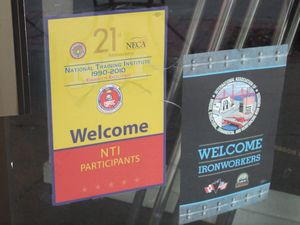 Paula Gardner | AnnArbor.com
This year, many local stores and restaurants are displaying welcome signs and banners for the group. In addition, Main Street will be closed for a
block party
on Monday night, Kerr said. NTI participants and the community are invited. The event will be repeated a week later for the UA attendees.
The public event is just one way that the training conventions benefit the area, Kerr said.
Registration for the NTI event opened at 9 a.m. Saturday, and a trade show at the University of Michigan's Indoor Track started at 10 and continues on Sunday.
The trade show, Kerr said, attracts vendors who want to provide information to the electrical industry. Among the participants was the Gandy Dancer, representing one of Ann Arbor's restaurants that will see an increase in business during the week.
Staff was on hand to make reservations for the visitors at the restaurant.
"We usually see anywhere from an 8 to 12 percent increase," with the major trade conventions, said Gandy Dancer manager Matt Foyteck.
That translates into 10-14 people working extra hours during the week, he said, as the restaurant attracts participants and their families.
The event, Foyteck said, "is a great opportunity to get people into our restaurant."
The impact, he added, goes beyond his own establishment. "It's a great opportunity for the community."