Posted on
Thu, Jan 13, 2011 : 6:03 a.m.
601 Forest: Demolition begins as Ann Arbor's student housing market braces for more change
By Paula Gardner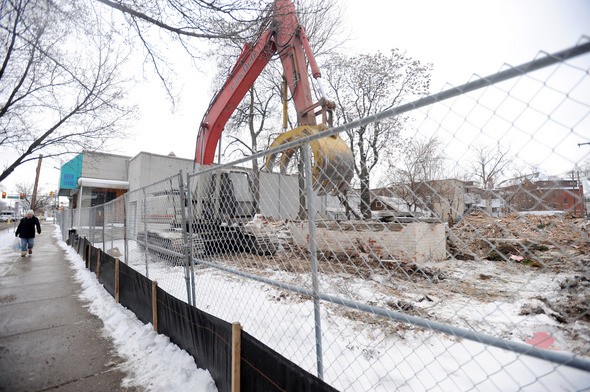 Angela Cesere | AnnArbor.com
Demolition is under way at the corner of South University and South Forest, 4 years and 10 months after Ron Hughes took his first steps toward developing the 601 Forest student high-rise in Ann Arbor.
That deal concluded Friday, putting the project in motion to open in fall 2012, based on construction timetables.
It's a project that endured significant change over the course of its development until it emerges now as the latest student housing project to hit Ann Arbor and one that could affect existing student housing boundaries in the city.
For Hughes, bringing 601 Forest onto the market not only will end years of work. He also expects it to raise the bar among campus housing options.
"I'm sure there will be other student housing buildings coming online in the future," Hughes said. "But it will be very difficult … to compete with 601 Forest with the size and scope of amenities we can offer."
The project will include 606 beds in 173 apartments, ground floor retail space and what Hughes calls "an amenity floor" featuring workout facilities, tanning beds, sauna, theater room, game room and outside hot tub, all on the 2nd floor of the building and with views along South University.
That location, at the intersection of South Forest, is on the edge of the University of Michigan campus and in the midst of one of its key retail corridors.
The location, Hughes said, "is really where the student housing should be. It's the central hub of campus."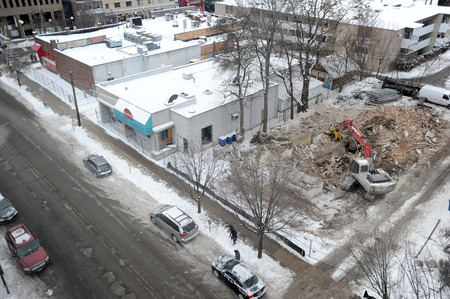 Angela Cesere | AnnArbor.com
The deal, meanwhile, signals the ongoing strength of the student housing sector in Ann Arbor. Another project is in the early stages of construction: Zaragon 2, two blocks west of the Diag. A third opened 2 years ago and was just sold to a Texas-based student housing developer and operator.
That two new projects are entering construction while much of the U.S. investment money is chasing distressed property and while construction financing remains extremely difficult to obtain indicates the national draw of the Ann Arbor student housing sector.
"These two deals … are perhaps the only (significant) private sector development in Michigan," said Peter Allen, a University of Michigan instructor who's also involved in Ann Arbor real estate.
Allen is marketing the Pizza House property for a high-rise addition above the popular Church Street restaurant, a block west of 601 Forest. He said he's fielded several developer inquiries on the property and expects more to seek to enter the market.
That market stalled for at least two years as lending dried up. But property with proximity to U-M keeps attracting attention, paralleling growth in the university's student count, which totaled 41,924 this year.
So while 601 Forest development stalled due to some factors, its natural strength kept the project alive.
"The viability of the project has never changed," Hughes said. "What did change was our economy. That resulted in the delay of starting construction."
Hughes attracted two partners to the deal: Campus Acquisitions of Chicago, which signed onto the deal in fall 2009 and will manage the property; Campus Acquisition also brought in Harrison Street Real Estate Capital.
Hughes said he and Campus Acquisitions view the development as a long-term deal that they'll retain in their portfolios. The pair reworked some of the designs earlier this year to "better reflect CA's mantra of loft-like units with efficient, open floor plans in an amenity-rich, technologically sophisticated and secure bulding," said JJ Smith of CA in an email.
Watching the student housing pipeline fill with more than 800 beds that will come online in fall 2002 - likely at top-of-market pricing - raises questions about when the Ann Arbor market will be saturated.
Hughes said that saturation point is unclear. He expects 601 Forest to be fully leased for its first year in the market.
Steve Kaplan of Varsity Management agrees that it's hard to define how much is too much when it comes to new student housing.
"I don't think that supply - so far - is outstripping demand," he said. "That said, there's a lot of sub-categories within that supply. I don't know how many people are willing to pay $1,000 per bed."
Existing properties near campus rent for a range of $550 per room up to about $850, Kaplan said. The Courtyards, new construction near North Campus, was renting last year for $680 per bed.
Hughes said the pricing for 601 Forest hasn't been determined. Industry experts expect it to be in the range of $1,000 per bed; Zaragon Place on East University was at $1,119, according to industry data.
While that pricing can work for brand-new construction and help a developer cover construction costs, Kaplan does raise the question about how long a building can sustain top-of-market rent. And, he said, their size mean that management will have to fight perception that the buildings resemble large, private dormitories.
Still, he said, "there's room for growth to some extent in student housing."
Meanwhile, as Hughes anticipates the opening of 601 Forest in fall 2012, he recognizes that it will affect student housing that exists around campus, with much of the impact predicted for the edge of residential districts.
The new construction, he said, should have a positive impact in those areas as housing is converted back to single-family homes.
"I think that will be a plus for the neighborhoods," he said.
Paula Gardner is Business News Director of AnnArbor.com. Contact her at 734-623-2586 or by email. Sign up for the weekly Business Review newsletter, distributed every Thursday, here.