Posted on
Mon, Apr 1, 2013 : 11:30 a.m.
Why Chelsea's Jiffy Mix is 'one of America's last great businesses'
By Lizzy Alfs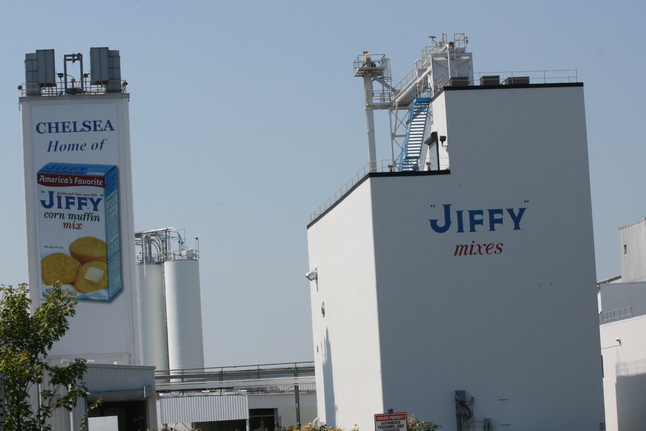 Lisa Allmendinger | AnnArbor.com
It's not too often that the CEO of a multi-million dollar company makes personal phone calls to complaining customers.
But after Howdy Holmes, CEO of Jiffy Mix maker Chelsea Milling Co., did just that recently, the complaining customer changed his tune pretty quickly.
"I simply had written a short note complaining that I preferred the flavor of real blueberries to the artificial ones in their muffin mix," Cory Suter writes on PolicyMic, a political news site.
"After a 16-minute long chat with the Jiffy Mix CEO, and 11 years of studying business and economics, I knew I had discovered one of America's last great businesses," he continued.
Based just outside of downtown Chelsea, the family-owned Chelsea Milling Co. produces more than 1.5 million boxes of mix each day. Holmes' grandmother introduced the first prepared baking mix product in 1930.
Suter names seven reasons why Jiffy is a great company, including how well it treats its employees and how it manages to keep costs low for consumers.
"The 30 percent to 52 percent off the final price that Jiffy saves not advertising or making flashy packaging is directly passed on to customers in the form of unusually low prices," the article says.
Lizzy Alfs is a business reporter for AnnArbor.com. Reach her at 734-623-2584 or email her at lizzyalfs@annarbor.com. Follow her on Twitter at http://twitter.com/lizzyalfs.