Posted on
Thu, Aug 15, 2013 : 2:59 p.m.
A new way to look at Ann Arbor: Race-based map shows where ethnicities congregate
By Ben Freed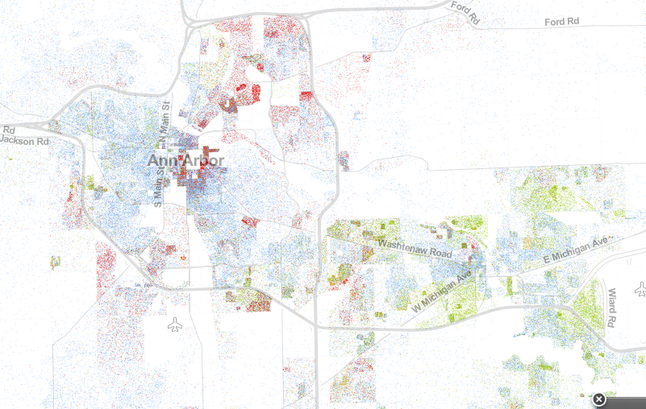 Racial Dot Map Screenshot
A new
Racial Dot Map
created by demographic researcher
Dustin Cable
from the
Weldon Cooper Center for Public Service
at the
University of Virginia
provides a fascinating look into the ethnic composition of America and the Ann Arbor area.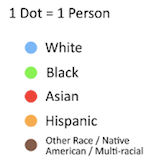 Compiled using data from the 2010 census, Cable used a simple "one person equals one dot" method
plotting 308,745,538 color-coded dots
to provide a visual representation of how our communities across the country self-segregate (or integrate) based on racial considerations.
When the map is zoomed out to include most of the Lower Peninsula, Ann Arbor looks to be a pleasantly purplish dot. While other Michigan cities such as Detroit, Flint and Saginaw show sharp Black/White concentrations in different areas, Ann Arbor's demographics appear to be far more mixed.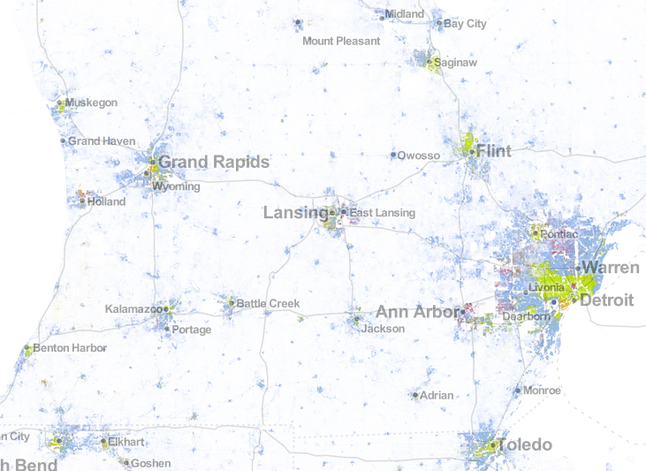 Racial Dot Map Screenshot
Zooming in reveals stronger racial delineation, with nearly solid "red" clusters of Asian residents appearing in Northeast and downtown Ann Arbor. While few areas of town appear extremely segregated, certain pockets display more solid color schemes.
One neighborhood that stands out for its diversity is the neighborhood just south of I-94 surrounding Bryant Elementary School. Dots of green, blue, red and orange overlap so impressively that it would be difficult for a naked eye to determine a majority.
Racial Dot Map Screenshot
According to the Atlantic, Cable modeled his map on a previous MIT project that plotted population density with black dots on a white map. Cable took the project to the next level by adding color (both literal and figurative) to our perception of where we live and who we live with.
Ben Freed covers business for AnnArbor.com. You can sign up here to receive Business Review updates every week. Get in touch with Ben at 734-623-2528 or email him at benfreed@annarbor.com. Follow him on twitter @BFreedinA2