Posted on
Wed, May 18, 2011 : 5:55 a.m.
Updated Miki Japanese Restaurant on First Street in Ann Arbor opens under new ownership
By Janet Miller
Miki Japanese Restaurant, one of Ann Arbor's oldest Japanese eateries, is in new hands.
Yoon and Felisha Kim bought the 130-seat South First Street restaurant, 106 S. First St., at the western edge of downtown Ann Arbor in early May. They closed for two weeks for renovations and a menu update and reopened Monday. Miki first opened about 25 years ago.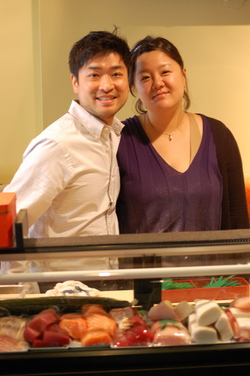 Janet Miller | For AnnArbor.com
Yoon, who co-owned a Japanese take-out restaurant when he was a student at
Michigan State University
, will work the back of the house while his wife, Felisha, will work the front. She studied hospitality management at MSU.
It's the couple's second restaurant venture. They opened Sushi Zen in downtown Brighton more than four years ago, and the new Miki menu will be a blend of the two restaurants, Felisha said. They purchased Miki from James Bee.
While the couple is originally from South Korea, it makes sense for them to operate Japanese restaurants, Felisha said. Yoon was trained in Japanese cuisine when he broke into the business, although they do offer a handful of Korean dishes on the menu.
"He was trained to cook fish, broths and sauces," Felisha said.
The new menu will keep Miki favorites such as tempura udon and noodle dishes but add more sushi and sashimi.
While they were considering Plymouth for the past two years as a home for their second restaurant, Miki came on the market. It was too good to pass up, Felisha said.
"It's different from Plymouth because it's a college town. But, except for the parking, we like the vibe here. There's a lot of foot traffic, a lot of excitement," she said.
Janet Miller | For AnnArbor.com
They also liked that Miki already had a strong reputation in Ann Arbor. While Miki's daily receipts softened in recent years with the weak economy, Felisha said they have plans they hope will drive growth.
They'll target the University of Michigan student market by offering discounts, will host a weekly karaoke night that will see Miki stay open late and they will offer outdoor seating on their sidewalk, which will be a first for the restaurant and will add 25 seats. Felisha said she hopes to see sales improve 15 to 20 percent a year from now.
Eventually, the couple will switch the name to Sushi Zen, to match their Brighton location.
"We want a meditative, calm atmosphere and felt the Zen in the name helped create that," Felisha said.
The couple's relatively modest remodel included changing the dark green wall color to a warm yellow and installing wall art that evokes a Zen feel, glassless wood-framed canvases of flowers and bamboo.
While Miki was one of the first Japanese restaurants to enter the Ann Arbor market, many others followed, especially a swell of sushi restaurants that sprang up a decade ago. Today, the Web site Yelp lists more than 25 Japanese and sushi eateries for just Ann Arbor.
Miki can handle the competition, Felisha said.
"I tried a few Japanese and sushi restaurants and they weren't as good as I expected," she said. "I have no doubt our food will be better."
Janet Miller is a freelance reporter for AnnArbor.com.