Posted on
Sun, Dec 25, 2011 : 5:58 a.m.
A123 Systems acknowledges problems with some batteries made for Fisker
By Nathan Bomey
(See previous story: Analysis: A123 Systems layoffs highlight challenges for Michigan's budding battery industry)
Michigan battery maker A123 Systems Inc. acknowledged a manufacturing error with up to 50 battery packs it supplied to California electric vehicle startup Fisker Automotive.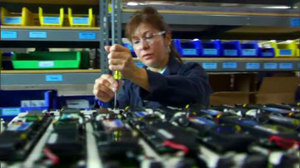 Photo courtesy of A123 Systems
A123 Systems, which employs 40 workers at its Ann Arbor research and government solutions division and about 700 throughout Michigan, said it had identified a problem with hose clamps in the battery pack's internal cooling system.
The clamps were "misaligned, positioned in such a way that could potentially cause a coolant leak," A123 CEO David Vieau announced on the company's website.
"Over time, it is possible that in certain rare circumstances, this coolant leak could potentially lead to an electrical short circuit," Vieau said. "There have been no related battery performance or safety incidents with cars in the field. However, A123 and Fisker are committed to safety and are taking immediate, proactive steps to prevent any issue from occurring."
A123 said it had developed a fix and expected the glitch to have "minimal financial impact" on the company, whose stock closed at $1.77 on Friday, down from $13.40 during the company's initial public offering in September 2009.
The news comes about a month after the company laid off 125 workers at its Michigan battery plants after Fisker slowed production of its Karma plug-in hybrid electric sedan.
A recent AnnArbor.com review of A123's third-quarter earnings report with the U.S. Securities and Exchange Commission showed that the company gets 51 percent of its revenue from two customers, including Fisker. Government contracts and subcontracts make up another 12.3 percent of A123's revenue.
"They're a big part of our plans and in the top two customers we have for this year and for next year for sure," Vieau said of Fisker.
Contact AnnArbor.com's Nathan Bomey at (734) 623-2587 or nathanbomey@annarbor.com. You can also follow him on Twitter or subscribe to AnnArbor.com's newsletters.