Posted on
Sun, Jun 16, 2013 : 5:56 a.m.
Clean-tech startup hopes to turn 'leftover' algae into profitable company
By Ben Freed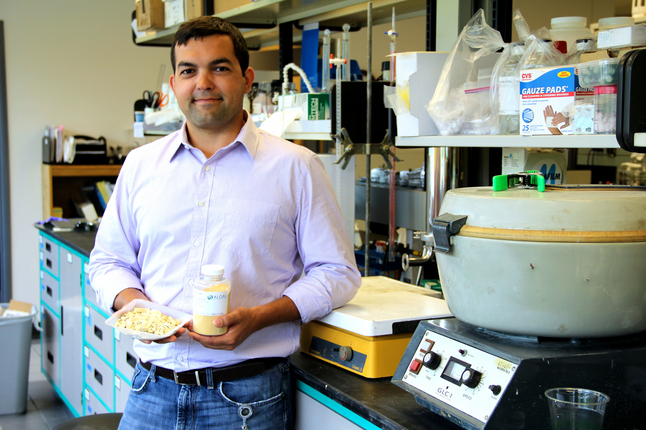 Ben Freed | AnnArbor.com
Sometimes, a by-product of the scientific process can turn out to be more important — or more valuable — than the intended result.
Algal Scientific began in 2008 as an attempt to harness the power of algae to clean wastewater. Geoff Horst, a Ph.D. candidate at Michigan State University at the time, teamed up with two University of Michigan business school master's students and one U-M Ph.D. student to enter the idea into the DTE Clean Energy Prize competition.
The group won the competition — which included a $65,000 prize — and used the money to start Algal Scientific in the Michigan Life Science and Innovation Center. They planned to sell the leftover algae from their cleaning process as biomass for fertilizer and make approximately $500 per ton.
"It was a nice way to kill two birds with one stone," Horst said.
"We could help solve company's wastewater problems and have some value to the biomass we were generating and do it all in a good, 'green' way."
Further testing on the species of algae they were using to clean up the water revealed it was worth more as a dietary supplement than a simple fertilizer. The algae were high in a sugar compound known as beta glucan that acts as an immune system booster.
"About a year and a half ago we realized that this beta glucan that was in the algae we were already using was very valuable," Horst, now the company's chief science officer, said.
"It is worth $20,000 to $30,000 per ton and at that price point were figured, 'Wow, we can make a lot of money with this."
Right now, the most popular source for beta glucan is certain types of yeast that develop the chain of sugar molecules in their cell walls. According to Algal Scientific literature, when animals are fed the substance as part of their diet, "the immune system response to stressful conditions and disease is more robust."
Some people believe there can be significant benefits to human consumption of beta glucan as well. The compound is available in a number of over-the-counter supplements — many of which claim to boost the immune system of users. Horst said further claims such as anti-viral properties have yet to be proven.
"Some of the opportunities on the human-side are pretty sweet but we're focusing on the animal-side right now because it's pretty straightforward," he said. "The human applications are more down the road."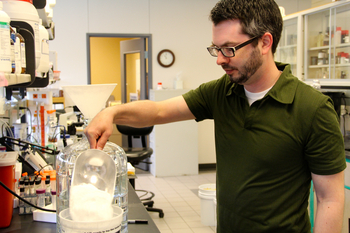 Ben Freed | AnnArbor.com
Once Algal developed a fermentation process to make the beta glucan-rich algae as quickly as possible, the company began to market the product to animal feed producers.
"It turns out [they] really want it but it's too expensive for them because of the yeast process," Horst said.
"That was the 'ah-ha' moment for us. If we can produce this for a fraction of the cost, this is a good place to be in."
The species of algae used by Algal Scientific is more than 50 percent beta glucan, while yeast has just 5 to 15 percent beta glucan content and requires an expensive process to extract the compound from the cell walls.
"Our beta glucan is stored within the cell and the cell itself is very digestible, so we just feed the algae straight to the animal and it doesn't need further processing. It's a very elegant process," Horst said.
"It's a unique species of algae, you probably wouldn't encounter it in a local pond or lake, but it's not genetically-modified. It's a naturally occurring species, just not a very common one."
As with the wastewater treatment, Horst has an altruistic motive to Algal's new focus in addition to the profits it might bring in.
"My personal goal is that we eventually we could reduce the amount of antibiotics we use in animal production which is a huge societal problem right now in the United States," he said.
"The vast majority of the antibiotics in America go into animals and the majority of those are given to animals that aren't even sick… It's creating new antibiotic resistant strains of bacteria that can be very dangerous. It will take some time but it's great to have an opportunity to do something about it."
As trials of their beta glucan product move forward, Horst and his co-founders Bobby Levine, Jeff Lebrun, John Rice are looking to find a new location to expand their production.
"There's not much more science we have to do to be profitable, now we're really in the 'ramp-up, scale-up' mode," Horst said.
The company has grown to include nine full-time equivalent employees and has brought in approximately $1.5 million in outside funding, which includes $500,000 for winning the Accelerate Michigan innovation competition in 2012.
The company's CEO, Geoff's father Paul Horst, will be looking to raise a multi-million dollar funding round later this year in order to facilitate the move. Geoff said the fermentation process of the algae should allow for the company to rapidly scale-up and be cash-flow positive by the end of 2014.
"It's a fairly efficient facility, and it will look a lot like a microbrewery," he said.
"We put in a tank and then as demand increases we just add in the next tank, and the next tank. So the facility will be able to experience a fair amount of growth simply by adding capacity as we get more customers."
Ben Freed covers business for AnnArbor.com. You can sign up here to receive Business Review updates every week. Get in touch with Ben at 734-623-2528 or email him at benfreed@annarbor.com. Follow him on twitter @BFreedinA2