Posted on
Wed, Apr 14, 2010 : 5:50 a.m.
ACH to invest $45 million in Saline plant upgrades
By Nathan Bomey
Saline's Automotive Components Holdings plant will get $32 million in technology upgrades and $13 million in environmental improvements, marking the latest in a series of positive developments for a plant that was teetering on the edge of being shuttered two years ago.

The site now employs about 2,000 workers, up nearly 700 in the last three years, reflecting a remarkable turnabout for the 1.6 million-square-foot plant.
ACH, a supplier controlled by Ford Motor Co., will spend $32 million on new manufacturing equipment this year, ACH spokeswoman Della DiPietro said. ACH also plans to invest $13 million to clean up contaminants at the site in a brownfield redevelopment project.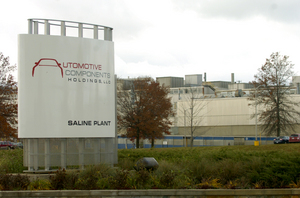 File photo | AnnArbor.com
Saline City Council unanimously gave its support to the brownfield project Monday, and the Washtenaw County Board of Commissioners will also vote on the plan. ACH must secure brownfield approval from the city and county before pursuing brownfield redevelopment tax credits from the Michigan Economic Development Corp.
"It didn't really affect us other than to help one of our corporate citizens," Saline City Finance Director Lee Bourgoin said. "They're moving in the right direction."
DiPietro said the plant, which produces interior components and panels, is essentially 100 percent occupied. Some of the plant's 2,000 employees are Ford workers who were laid off from other plants and transferred to the ACH facility.
The site had 1,600 employees in early 2009 and 1,350 in November 2007 when auto supplier Johnson Controls tentatively agreed to buy the site - a deal that collapsed during the economic crisis in late 2008.
From 2005 to 2009, ACH invested $120 million in upgrades at the plant, including new technology and logistical improvements to the manufacturing process, DiPietro said. The $32 million ACH plans to invest this year is in addition to the $120 million already spent.
DiPietro said the investments are necessary to allow the ACH plant to continue competing for Ford contracts. Ford essentially treats ACH like an independent supplier.
Ford's financial turnaround is clearly part of the ACH plant's persistence in the aftermath of the global auto crisis. DiPietro said Ford's role in the ACH plant's success was "instrumental," although plans to invest in the property started before Ford's turnaround.

"It was really a tremendous investment at the time when others were cutting back," DiPietro said.

That the site is operating at full capacity is a significant boon to the city of Saline, which has aggressively sought to diversify its tax base in recent years in preparation for the potential closure of the plant.
Saline City Manager Todd Campbell said the ACH plant represents 8 percent to 9 percent of the city's tax base.
Ford formed ACH in 2005 to sell or close 17 former Visteon sites. The Saline and Milan plants, another Michigan plant, and plants in Ohio and Indiana continue to operate, although the Indiana plant is slated to close.

DiPietro said the company may still pursue selling the Saline and Milan plants but has no immediate plans to do so.

Ypsilanti's 1 million-square-foot ACH plant was sold in December to Angstrom Capital Holdings LLC, part of Taylor-based tubular parts maker Angstrom USA. That firm plans to redevelop the site and demolish some of the oldest buildings there.

Contact AnnArbor.com's Nathan Bomey at (734) 623-2587 or nathanbomey@annarbor.com or follow him on Twitter. You can also subscribe to AnnArbor.com Business Review's weekly e-newsletter or the upcoming breaking business news e-newsletter.