Posted on
Mon, Jun 11, 2012 : 12:29 p.m.
Acme Mercantile to close downtown Ann Arbor store after a decade amid online shift
By Lizzy Alfs
After 10 years of running her quirky store on West Liberty Street in downtown Ann Arbor, Acme Mercantile owner Nina Juergens is refocusing her business.
That includes closing the store at 111 W. Liberty St., revamping her online business and creating more Acme-branded products.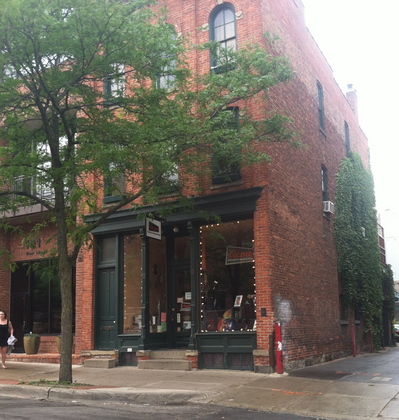 Lizzy Alfs | AnnArbor.com
Juergens, who announced plans to close her storefront on her blog on Sunday, told AnnArbor.com the move is an exciting one: it will allow her to design more products while running the online store out of her home. And she might even be able to take a couple days off.
"I was really bogged down with the day-to-day of keeping the store open and managing it," she said. "The timing was perfect; my lease was up. I don't want to spend every day worrying about work."
Juergens opened Acme in November 2002, calling it the "world's smallest department store" at 900 square feet. She sold a variety of convenience items for downtown shoppers, from pet supplies to hardware and office items.
Over time, Juergens' inventory transitioned to focus on more gift-type items and novelties. She also makes Acme-branded products with their own labels.
"I like making my own product," she said. "I want to expand that and I never had the time. I have these ideas and prototypes and I was never able to get the time to start producing them…one of the items I've been working on is a line of purses…as well as a line of body care products."
The online store is currently undergoing a "complete overhaul," Juergens said, and she expects it to launch in the next week or so. She said it will carry fewer low cost items, such as candy and magnets, and focus on higher-end items and unusual novelties.
The goal is to close the West Liberty Street storefront at the end of June. The building, which was originally built in 1888, is registered to Joseph Arcure & Co. out of New Mexico.
During the transition, inventory at Acme is 20 percent off.
Juergens also owns Salon Vertigo on South Fourth Avenue, which she originally began operating on Main Street in 1994. It moved to 212 S. Fourth Ave. six months after she opened Acme.
With the Acme storefront closing, Juergens said she will still sell some of its most popular items at the salon and is bringing an Acme employee over to run the front desk and retail section. She'll also appear at events around town and might host the occasional pop-up shop.
"There will still be the opportunity to shop Acme in person," she said. "I never wanted to give up on Acme because it's so much fun and I love it so much. This is the perfect way I can keep it percolated until I figure out the next thing I want to do with it."
After 10 years of operating the brick-and-mortar store, Juergens said there is one thing she'll miss the most: her loyal customers.
"That's a great thing about a store like that: it's small and we've built great relationships with people," she said. "I think that's probably the thing I take away from this as the best thing that happened."
Lizzy Alfs is a business reporter for AnnArbor.com. Reach her at 734-623-2584 or email her at lizzyalfs@annarbor.com. Follow her on Twitter at http://twitter.com/lizzyalfs.