Posted on
Wed, Jan 5, 2011 : 6:03 a.m.
Adaptive Materials plans expansion of fuel cell manufacturing capacity after acquisition
By Nathan Bomey
Adaptive Materials Inc. plans to expand its capacity to produce fuel cell packs in Pittsfield Township after its $23 million sale to United Kingdom-based technology giant Ultra Electronics Holdings plc, executives told AnnArbor.com in an interview Tuesday afternoon.
Adaptive Materials co-founder Michelle Crumm said the deal, which was revealed Tuesday morning, would give the firm the financial backing and customer ties necessary to expand production.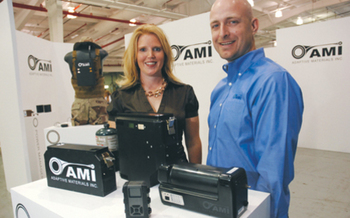 File photo | AnnArbor.com
The deal was completed at the end of December, said
Phil Evans
, Ultra's divisional managing director for aircraft and vehicle systems.
Evans said Ultra would help power Adaptive Material's production expansion. He emphasized that Ultra plans to maintain the company's 47,000-square-foot Pittsfield Township facility and continue to add to its 55 employees. Ultra operates 24 businesses, including 10 in the U.S. and two in Canada.
"Those businesses are not directed from the center. They operate as autonomous business units and get on with doing what they were doing," Evans said. "We don't buy businesses to change them. We buy businesses because they are already good and we can see that they can grow with more investment."
Crumm, who co-founded Adaptive Materials with her husband, Aaron Crumm, more than 10 years ago, said she realized several months ago that the firm would need a new source of funding to start expanding its manufacturing capabilities in 2011. The company started searching for possible sources of funding, a quest that included talks with prospective venture capital investors.
Crumm, whose company never accepted private funding from outside investors, ultimately concluded that a corporate partner with deep pockets, technology know-how and existing customers in the military market was the best fit.
Adaptive Materials http://www.annarbor.com/business-review/adaptive-materials-lands-3-million-from-air-force-to-develop-fuel-cell-systems/">had more than $11 million in funding in 2011, mostly from the U.S. military, which likes the potential of portable fuel cell packs that can replace heavy batteries in various battlefield applications.
"We knew we would need some growth capital in order to get through some of the challenges with manufacturing scale-up," Crumm said. "We've seen other fuel cell companies not do very well with the private equity, venture capital route. So we thought the logical route with us, for all the needs we have, would be acquisition."
Adaptive Materials produced "a few hundred" fuel cell packs in 2010, but Crumm said that figure could be in the "thousands" within the next 12 to 18 months based on existing customer agreements. She said the company has enough room to grow in its existing facility for the next few years.
Acquiring the technology and talent necessary to make that jump is part of the reason Adaptive Materials sought out a sale, she said.
Evans said Ultra plans to make a "multi-million dollar" investment in new equipment and engineers for the facility.
Adaptive Materials currently has 10 engineering openings and plans to hire more engineers and equipment operators once it starts expanding its production capacity, executives said.
Ultra Electronics companies produce a wide range of products and services, including aircraft equipment, communication systems, transportation system and energy products. The firm had $1.02 billion in revenue in 2009 and some 4,000 employees.
The company's strategy includes organic growth at its existing companies and a steady stream of acquisitions, Evans said. He said Adaptive Materials' energy-efficient fuel cells was particular attractive.
"Size, weight and power is key in an awful lot of businesses, and what AMI has is something where the energy density is about 10 times better than batteries. That's a huge advantage to the user," he said.
Ultra also brings to the table an assortment of existing customers that could prove to be valuable contacts for Adaptive Materials.
Crumm said Ultra's girth and reputation would provide intangible benefits.
"We've been working with billion-dollar-organization customers that have very strong brands, and they're looking at cute little Adaptive Materials and say, 'We feel much better now that you've got a billion-dollar organization behind you," she said.
Crumm said she would be leaving the company within six to 12 months but that her husband would stay on as vice president for technology.
Evans said a new general manager would be hired to run Adaptive Materials' business operations and that he would visit the company about once a month.
Crumm said she was unsure of her next step but she suggested that she wasn't ready to give up entrepreneurship.
"I'm sure something great will happen," she said.
Crumm said Ultra Electronics was a good "cultural fit" for Adaptive Materials.
"They do this, they buy companies, they know how to integrate them, they don't move them, they know that we need growth capital. It kind of became an easy and obvious choice," she said.
Michelle and Aaron started Adaptive Materials as an outgrowth of his doctoral project at the University of Michigan's College of Engineering. However, the company has no financial ties to U-M and is not considered an official spinoff of the university.
Some Adaptive Materials employees owned shares in the company through a stock-option plan the company instituted years ago as a benefits option. Those workers have already received a payout to compensate for their ownership in the company.
Contact AnnArbor.com's Nathan Bomey at (734) 623-2587 or nathanbomey@annarbor.com. You can also follow him on Twitter or subscribe to AnnArbor.com's newsletters.