Posted on
Sat, Nov 3, 2012 : 5:58 a.m.
Norton's Flowers moves to new west Ann Arbor location
By Angela Smith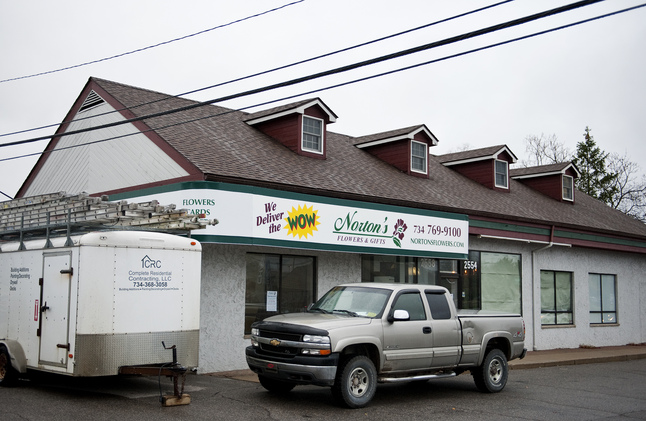 Daniel Brenner I AnnArbor.com
Norton's Flowers and Gifts
is a 120-year-old business, and to the best of President
Tim Galea
's knowledge, it's the oldest retailer in
Washtenaw County
.
The original location at 2900 Washtenaw Ave., in Ypsilanti was opened by Frank Norton in 1892. The second location, in Ann Arbor's Westgate Shopping Center, closed its doors earlier this season in anticipation of a newer more visible store.
"We wanted to be more visible to passing traffic; that is the entire reason for the move," Galea said.
Galea explained that throughout Norton's 21 years in the Westgate Shopping Center, "(People) were not finding us. We love this area, and we wanted new people to be able to find us."
Norton's new location was something Galea knew ideally would be near Stadium Boulevard between Pauline and Jackson. He ended up finding the shop's new location, at 2558 W. Stadium, right across the street, in the same center with Bigby Coffee.
Norton's Ann Arbor location is still under construction, but Galea hopes to have the shop up and running in time for Thanksgiving.
Though the space is smaller than the former store in Westgate, Galea agreed to the lease because of its prominent visibility.
Galea said customers will recognize the same staff and selection of products, but the lime green and orange color scheme is being replaced by a "classier warmer palette of greens and browns."
"The product mix will also be decidedly different." Galea says that beyond plants and flowers, the shop will offer an eclectic mix of gift lines and greeting cards.
In an age where many local stores and gift shops struggle with the competition of internet shopping, 120 years in the business is an accomplishment. Galea says the secret to Norton's success always has been its responsiveness to customer needs and tastes.
"Gifts are not our only thing, and our gift lines are really a service to our customer. We want people, no matter what the occasion, to be able to find something appropriate for anyone—man, woman, baby, self, whoever."
Norton's on Washtenaw will be hosting a Holiday Open House from 8 a.m. to 7 p.m. Saturday. customers can find discounts, snacks, prizes, and get a sneak preview at some of the new holiday décor lines.