Posted on
Fri, Jan 6, 2012 : 5:58 a.m.
Stadium Hardware completes expansion into ex-Campus TV & Satellite space
By Lizzy Alfs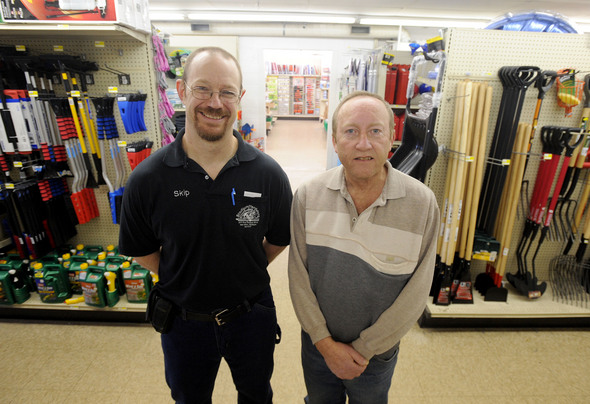 Angela Cesere | AnnArbor.com
Editor's note: This story has been updated to show that Campus TV relocated. For more information on the business, contact owner Joe Logelin at 734-665-6644.
Stadium Hardware co-owner Mark Mayne can't believe the long-time Ann Arbor store used to be just a tiny, cramped storefront at 2177 W. Stadium Blvd.
But that was 50 years ago.
Now, the business sprawls about 10,000 square feet after recently expanding into the former Campus TV & Satellite space next door. The business relocated last summer, and Stadium Hardware signed a lease to take over its 1,500-square-foot space.
Stadium Hardware co-owner Skip Hackbarth said when the opportunity to expand arose, he jumped at it almost immediately.
"We checked with Bell's [Diner] right away to make sure they were not interested in the space," he said. "It wasn't completely necessary, but if it was available, we were going to take it."
The reason: "It makes it so there is a little more uniformity to the store," Hackbarth said.
Hackbarth, Mayne and the other owner, Mike Kruzel, were able to move building hardware and miscellaneous items into the new space to better organize the store.
And although it's taken a few months to complete the move, Hackbarth said the store's steady stream of customers have been very positive about the new look.
Business has also been great, he added.
The store opened in 1962, and most of its 20 employees have been there for eight years or more.
Hackbarth said it's Stadium Hardware's "knowledge pool," high level of customer service and unique product mix that has kept it open over the years, even during hard economic times.
"We're here to help people." he said, "That's the key and that's the goal. And realistically, if you just stick to that, you're going to make a living doing it. Customers come back because we help them and because we have weird, eclectic items they're looking for."
When customers walk through the door, Hackbarth said they are helped right away, don't have to wait in long lines and can usually get everything they need.
And even though their business model has proven successful, Hackbarth said he doesn't envision Stadium Hardware opening additional locations.
"We want to control this environment," he said. "We want to make sure when we're done here at nighttime we can go home to our families."
He added: "Everybody wants to be rich, but you can look at being rich as being able to live and have great family time. That's the goal here and that's the way it's probably always going to be."
Mayne - who has been with the company for 33 years - laughed when recalling his experiences over the years.
"It's been fun, but it hasn't been real fun," he joked.
But in all seriousness, he added, "It's been great, and I wouldn't be here for 33 years if I didn't want to do it."
Lizzy Alfs is a business reporter for AnnArbor.com. Reach her at 734-623-2584 or email her at lizzyalfs@annarbor.com. Follow her on Twitter at http://twitter.com/lizzyalfs.