Posted on
Mon, May 28, 2012 : 5:58 a.m.
After almost 40 years in Ann Arbor, Georgetown Gifts prepares for final farewell
By Angela Smith
Laurie Wicks speaks with a happy nostalgia as she explains that she is closing her Ann Arbor gift store at the right time, before she starts to wake up in the morning and dread coming to work.
"It's been a good run" said Wicks, who has run Georgetown Gifts for the last 15 years, "but it's time for me to move from the fast lane to the middle lane."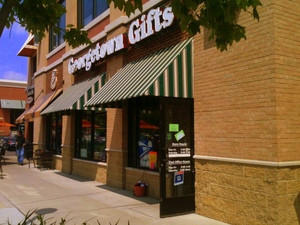 Angela Smith for AnnArbor.com
Wicks says that running Georgetown Gifts and the Georgetown Post Office Substation has been a great value to the community, but also a lot of work.
"It really is two businesses… and a small business owner never gets to punch out and leave it at 6 o'clock."
Wicks is emphatic, however, about the joy the business has brought her, along with the work. "I have really loved it, and I am going to miss my loyal customer base, and friends at the store. There is a real sense of community here."
Wicks and her husband bought Georgetown Gifts 15 years ago when the shop was at Georgetown Mall on Packard. Prior to that, the shop was owned by Marilyn Harber, who opened it at that location in the 1970s, according to Wicks.
Five years ago, Georgetown Gifts moved out of the Georgetown Mall, when the mall was shut down in anticipation of redevelopment. The community around Packard Road is still waiting for redevelopment to begin. The building that remains, vandalized and uncared for, is an eyesore now, in Wicks' mind.
Though Georgetown Mall is gone, Georgetown Gifts continued on after its move to the nearby Huron Village Shopping Plaza at Huron Parkway and Washtenaw Avenue. She joined Panera, Barnes and Noble and other national retailers.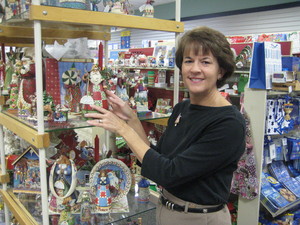 Laura Blodgett | For AnnArbor.com
Wicks does not deny that the last couple of years have been challenging.
"Rent is expensive; I'm a little business with big boys around me. The (neighboring businesses) have been great, and it's a very busy mall, which is good. But a small family business cannot necessarily afford big-box prices."
"The gift industry has also changed. When is the last time you received a hand-written note?"
She notes that people will send a birthday text instead of a birthday card these days, and that a great deal of shopping has moved to online. But rather than try to adapt or fight it, Wicks took this as yet another signal to "bow out gracefully."
The store has a staff of 10 part-time workers, many of which Wicks refers to as her "super seniors."
"Some are looking forward to retiring, with me, and some will look to continue in a post office or retail setting, or something else."
Wicks is still hopeful that a buyer might swoop in and take over the business, remarking that it is wonderful to be a part of the Ann Arbor business community. She calls the store price low, saying she is only looking to cover fixtures and inventory.
But if no buyer emerges by Aug. 31, she has a plan.
"The plan? A Laurie Wicks Retirement Extravaganza Sale!" she says with a laugh.
Markdowns began already, with 40 percent off garden items, and they'll continue throughout the summer, with plans for an indoor sidewalk sale and something special during Art Fair.
"Everything goes, and not to my garage!" she jokes. The shop is still purchasing "fill-in" items, including gift wrap, puzzles, state of Michigan items, and its best line, Vera Bradley.
Wicks will not use a liquidation company to manage the sale.
"I want to be there, and work with the customers." She looks forward to having more time to devote to family and other interests, but plans to stay active in Ann Arbor, "but from the middle lane. I don't think I'll ever be a slow lane person, not even as a super senior!"
Angela Smith is a freelance writer for AnnArbor.com.