Posted on
Wed, Dec 14, 2011 : 3:38 p.m.
After loan default, bank asks Ann Arbor real estate firm to manage former Borders headquarters
By Nathan Bomey
Ann Arbor-based real estate firm McKinley Inc. has been appointed to serve as property and asset manager for the 330,000-square-foot former headquarters of bookstore chain Borders.
The news comes after the property owner, Farmington Hills-based Agree Realty Co. acknowledged in a recent filing with the U.S. Securities and Exchange Commission that it had defaulted on a loan for the headquarters building.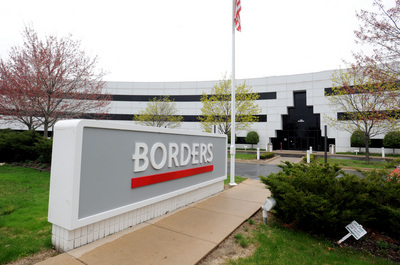 Melanie Maxwell | AnnArbor.com
Agree, which owed $5.6 million in principal on the loan as of June 30, said in the filing that it might lose the property.
It was not immediately clear when the bank took control of the property.
"Essentially the lender has asked us to get involved on their behalf and manage the asset," McKinley CEO Albert Berriz told AnnArbor.com this afternoon.
Berriz declined to reveal the name of the lender or to discuss details of the property turnover, citing confidentiality agreements. He also declined to address whether brokerage Signature Associates, which has been marketing the property for Agree, is still involved in the property.
Signature Associates brokers Jay Chavey, who has been marketing the property with Steven Gordon, told AnnArbor.com today that it's unclear how the new developments will affect their listing.
Signature had listed the property for sale at a starting price of $10 million or for lease at a "triple net" rate of $6 per square foot per year. The property is located at 100 Phoenix Drive on the city's south side.
"It's a terrific property in a terrific location," Berriz said. "We're very confident that we'll do great things for it and have a very successful outcome for our client."
A spokesman for Agree Realty, which rarely discusses its properties publicly, did not immediately respond to a request seeking comment.
The property, which was built in 1970 and renovated in 1998, has 1,283 parking spaces and accumulated $836,602 in property taxes in 2010. Borders, which rented the space and once had nearly 2,000 workers there, finished the liquidation of its stores in September.
McKinley, which owns and operates commercial and residential real estate throughout the country, has built a national reputation by agreeing to rehabilitate, manage and market distressed properties and real estate that's caught up in legal disputes. On the northern side of Ann Arbor, for example, McKinley is managing the Northeast Corporate Center in behalf of an institutional client. The company recently lured Chicago-based Cole Taylor Bank's mortgage division to lease 27,800 square feet at the Northeast Corporate Center.
The former Borders headquarters — which is vacant after subleasing tenant ReCellular moved out on Dec. 1 — is one of the only major empty office complexes in Washtenaw County.
Berriz described the property as a "rare opportunity" to attract a major corporate tenant to the Ann Arbor region.
AnnArbor.com reporter Lizzy Alfs contributed to this story.
Contact AnnArbor.com's Nathan Bomey at (734) 623-2587 or nathanbomey@annarbor.com. You can also follow him on Twitter or subscribe to AnnArbor.com's newsletters.