Posted on
Thu, Dec 20, 2012 : 5:57 a.m.
Seva restaurant may be moving from four-decade home in Ann Arbor
By Janet Miller
Seva Restaurant, an Ann Arbor institution for nearly 40 years, may be moving.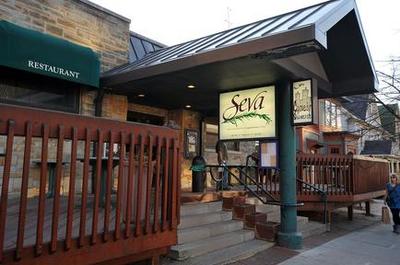 AnnArbor.com file photo
After almost four decades inside the
VFW Hall
building at 314 E. Liberty, the vegetarian restaurant is looking for a new home after they were told their rent would increase by more than 50 percent, said
Maren Jackson
who, with husband Jeff, owns Seva.
A new downtown location for Seva has been identified, Jackson said, and lease negotiations are under way. She would not identify the address until a lease is signed, likely next month. "It's not a done deal," she said.
Seva, along with the Ann Arbor Comedy Showcase, housed in the basement of the VFW Hall, have been operating on a month-to-month basis for close to a year, Jackson said. The businesses were unable to agree on the terms of a new lease with the VFW, which wanted to increase rent by more than 50 percent, she said.
"No one's the bad guy here. They just wanted way, way, way more than we had been paying," Jackson said.
The Comedy Showcase, housed in the VFW Hall lower level since 1987, is also looking for a new location, said Jim Chaconas, a listing agent with Colliers International. Owners of the club could not be reached.
Chaconas said the former VFW Hall could also be used for retail or office space, as well as a restaurant.
"There are a lot of people looking for large office space," he said.
The ground floor and the lower level each are about 4,500 square feet. The property is being listed at $19.50 per square foot for the ground floor and $7.50 per square foot for the basement. Monthly rent would be close to $7,500 for the upstairs and $2,900 for the downstairs.
That section of Liberty between Main and State streets has become increasingly popular, attracting a young professional crowd from Google, Menlo Innovations, Barracuda Networks and more, Chaconas said.
"It's a good spot. The parking lot is done and the area is pulling in a lot of traffic. There are tons of people there now that weren't there 10 years ago," he said. "It's a whole new market."
Jackson said she didn't expect a move will hurt Seva, which has been operating in the same location since 1973. The Jacksons purchased Seva from Steve Bellock in 1997. Jackson had worked at Seva for 20 years before she purchased it.
Seva opened a second location in Midtown Detroit, close to Wayne State University and the Detroit Medical Center, a year ago. It's been a good year for the new restaurant, Jackson said, with sales exceeding projections.
"That area of Detroit is booming," she said