Sava's State Street Cafe grows during first year in sprawling space once home to Zanzibar
Posted on Sun, Oct 31, 2010 : 6:02 a.m.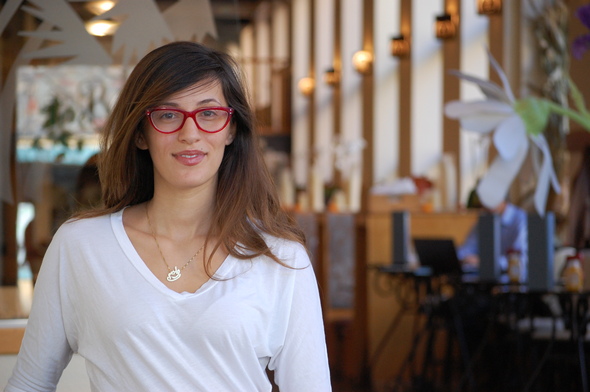 Janet Miller | For AnnArbor.com
Sava's State Street Café has come along way since the day nearly 15 months ago when the restaurant ran out of food.
When Sava Lelcaj, 27, moved into the former Zanzibar's in August 2009, she had no idea what to expect. Traffic was so heavy that first day that by closing time, most everything was sold out.

"In restaurant language, when you run out of something, it goes on the 86 list. We were 86ing everything. The first six months were really intense. We weren't really prepared," Lelcaj said.
It's taken time, but Lelcaj said Sava's has grown into the space: The menu has matured with more high-ticket items, the food has become consistent, she has a solid management team and her staff is trained.
In July, Lelcaj got a liquor license, adding the final piece to being settled in. "We had people coming in who were going to a show at Hill or the Power Center and they wanted a drink. We'd tell them they could order juice or a smoothie," Lelcaj said.
The liquor license, transferred from Zanzibar, has increased traffic and sales 25 to 30 percent and has allowed Lelcaj to add more sophisticated items to her menu for customers looking for a nice meal out while still keeping her student friendly meals (including $1 hamburgers on Monday). It's also allowed her to attract top-tier servers.
Still, it's a work in progress, Lelcaj said. She's growing the catering side of the operation and Sava's has become a hot spot for wedding rehearsals, baby showers and even wedding receptions.
Lelcaj hired two event planners. She also won a license from the city that will allow dancing.
"It's a huge space to fill," Lelcaj said. The ground floor is long and narrow and there's a mezzanine that floats above the main floor. The interior has a towering ceiling, high-back booths and daylight that pour in the tall windows one two sides.
Not long out of college, Lelcaj opened up her first restaurant in Hazel Park. Looking for a more vibrant city, Lelcaj, who grew up in New York City, settled on Ann Arbor and opened Sava's State Street Café on the second floor of a building on the east side of State Street, just north of East Liberty Street. That was 2007.
And she would have stayed there except for news that CVS Pharmacy was buying the building. Her lease allowed the landlord to terminate with just 30-days notice, she said, and she felt the pressure of finding a new home every day.
"I didn't want to change clientele. My whole business model was (targeting) students, faculty and locals and I knew I needed to be in this area. Even a block away meant I might have to change," she said. "I didn't want gap time."
But Lelcaj knew available space in the coveted State Street corridor that caters to town and gown was rare, so when she heard Zanzibar was leaving, she moved fast.
Just 28 days after signing the lease, she opened in her new space, going from a 43-seat restaurant popular with students to a 300-seat (250 when outside seating closes down), from 1,500-square feet to nearly 10,000 square feet.
"It was intimidating, but not as intimidating as not having a restaurant," Lelcaj said. "It was my only option. I had to make it work."
In the 28 days she had to prepare, Lelcaj took down the trademark tapestries hanging from Zanzibar's ceiling, painted and changed furniture. She also had to adapt the kitchen to allow for her catering business.
Overnight, volume rocketed five-fold, from serving 100 to 150 meals a day to 650 meals a day. There were lines around the building: Her old regulars, former Zanzibar customers and the curious. Lelcaj said she's sure she lost some customers for good during those first hectic months.
As change continues to come to the State Street corridor, Lelcaj hopes it will bring more traffic to Sava's. She even thinks the CVS will help.
"The new CVS will bring traffic and that should translate into visibility," she said. "A lot of people still don't know we're here."