Posted on
Fri, Nov 25, 2011 : 4:50 a.m.
Air Jordans, Ugg boots, watches: Black Friday shoppers flock to Briarwood Mall
By Lizzy Alfs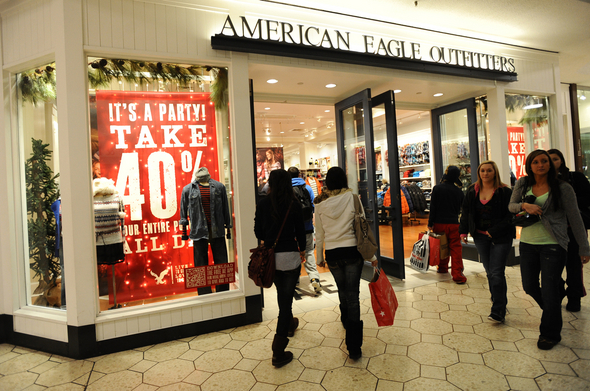 Melanie Maxwell | AnnArbor.com
In past years, there were no long lines outside
Briarwood Mall
on Black Friday before it opened at 5 a.m. because the five mall entrances helped to alleviate crowds.
But this year, there were lines aplenty.
Hundreds of people stood in the cold outside the mall before midnight, waiting to get inside for one of the biggest shopping days of the year. Dozens of retailers opened at midnight this year for the first time, with the rest of the stores opening at 4 a.m.
And although shoppers didn't camp outside the mall like some did at Best Buy, lines did start to form hours before the mall opened its doors.
First-time Black Friday shopper Gerardo Rodriguez landed the first spot in line outside the Macy's department store, and he got there at about 9:30 p.m. Thursday night, he said.
The Black Friday items he was searching out? Winter clothing.
"They have a lot of good sales and I just want to take advantage of them," he said. "I'm excited. It makes the waiting worth it."
Security guards on Segways monitored the scene at the mall, which was fueled by excitement and high energy shortly after midnight. There were also guards patrolling the exterior of the mall.
Ida Hendrix, general manager for Briarwood, said the midnight openings definitely brought shoppers out earlier than ever this year.
"I'm excited to see how this is going to play out," she said. "It could be that young people come and get their deals and then leave to go somewhere else. We got the shoppers here earlier, so I don't know if it's going to mellow out later."
Early in the morning, hot spots in the mall were Macy's and Champs, where the new Nike Air Jordan shoe was released at midnight. About 45 people waited in line for the highly anticipated shoe.
For Tammy Ramirez, waiting in the line outside Macy's at 11 p.m. on Thanksgiving night was all for her mom.
"My mom wants Ugg boots for Christmas," she said. "I figured this is the time to get them because they'll be cheaper."
Eastern Michigan University student Nick Ceccolini said he wanted to find a good deal on a watch.
But Stephanie Hunt and Jeff Salk, who started at Toys "R" Us at 10 p.m. before coming to Briarwood, said they noticed the deals weren't particularly great this year.
"I think a lot of people are looking for the electronics and things," Hunt said. "But it's all just a trick. These places only have a couple of items that are the really good deals, and it just convinces you to come in a store and buy something else."
"I think a lot of this Black Friday stuff is false advertising," Salk said.
Lizzy Alfs is a business reporter for AnnArbor.com. Reach her at 734-623-2584 or email her at lizzyalfs@annarbor.com. Follow her on Twitter at http://twitter.com/lizzyalfs.