Posted on
Sat, Dec 31, 2011 : 5:58 a.m.
After 30 years, Al Dente Pasta Company becomes a national leader
By Janet Miller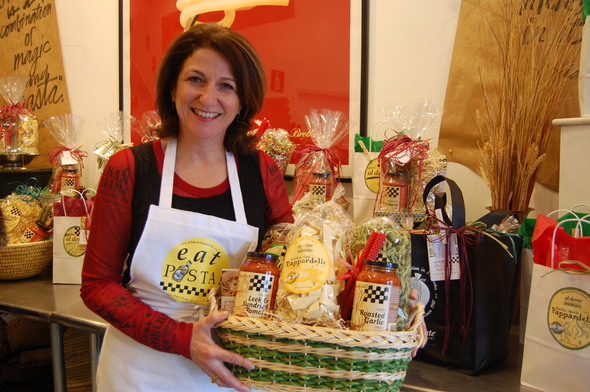 Janet Miller | For AnnArbor.com
When
Monique Deschaine
started
Al Dente Pasta Company
, she had none of the right credentials: No business background. No money. And no Italian heritage.
She didn't think she'd last five years.
That was 30 years ago.
Al Dente pasta makers has gone on to become one of the country's top specialty pasta makers, sold in thousands of food and specialty stores in all 50 states, Canada and the Caribbean and producing 5,000 pounds of pasta a day, six days a week.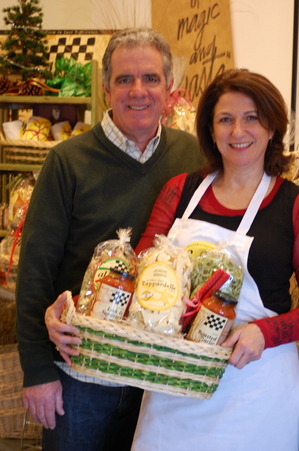 Janet Miller | For AnnArbor.com
"It's made me rich," said Deschaine. "But I don't mean in a financial way. It's made me rich in learning. Rich in growth. It's a little company, but a big story."
Except when the Atkins low-carb diet swept the country a decade ago, Al Dente, based 10 minutes north of downtown Ann Arbor in Whitmore Lake, has grown every year, responding to trends as the American palette changes: Out of the Atkins period came Carba-Nada, a reduced carbohydrate pasta. The company introduced pappardelle two years ago as the broad fettuccine caught fire. Now, it will introduce its newest pasta, made from chia, an edible seed renown for omega-3 fatty acid content and health benefits. It will also be Al Dente's first vegan pasta when it's introduced in January.
It was the early 1980s and Deschaine had graduated from the University of Michigan with a degree in psychology. Complete Cuisine was a hip Main Street restaurant/cooking school, more than a decade ahead of its time. It was a foodie haven before the term was even coined, attracting celebrity chefs such as Jacques Pepin.
Deschaine had read a story about artisan pasta shops popping up around the country and heard her calling. She wrote a letter to Sandi Cooper, Complete Cuisine owner, who offered to be her mentor.
Deschaine trained for a year before she started making pasta during off-hours at the restaurant during the Art Fair in 1981.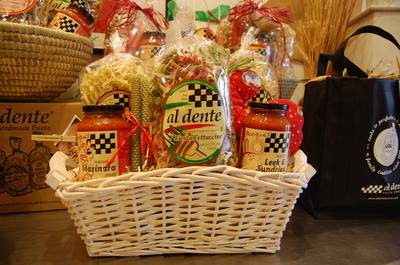 Janet Miller | For AnnArbor.com
"The best piece of advice was to find my niche and not compete with the big boys (such as Barilla)," she said. "I didn't want to pretend I was Italian and this was an old family recipe. Instead, I wanted to create an American pasta."
She decided on hand-rolled dry pasta over fresh pasta, which had a limited market reach. "I didn't want to depend just on one market," Deschaine said. Dry pasta could be easily shipped around the country, but hand rolled pasta cooked in three minutes and tasted fresh, she said. That remains Al Dente's niche.
Success comes from good timing rather than luck, said Deschaine, who, with husband Dennis, has been able to grow the company with almost no debt. Al Dente rode the fine food wave followed by the turn toward the slow food movement.
Because they are small, they are able to respond to trends with greater speed than large suppliers, she said, adding whole-wheat pasta and exotic flavors such as squid ink fettuccine.
They added four flavors of jarred sauce, under the name Monique's (Al Dente sauce was already trademarked). Because they were late to an already crowded jarred sauce market, Monique's will see limited growth, Deschaine said. It accounts for less than 5 percent of the company's sales.
But timing hasn't been perfect. Al Dente introduced a pasta and sauce kit a few years ago that failed. Like macaroni and cheese in a box, the pasta sauce was a dry mix and needed water. And the company introduced an organic pasta line 17 years ago before the public was willing to pay a premium for organic. That line also died, but was re-launched successfully four years ago.
Today, Al Dente continues to be on the right side of food trends. "In the 1990s, we shied away from telling people we were a small company because everything was big, big, big. But now, small producers hold a unique place and we are valued," Deschaine said. The company has close to 20 employees at its 12,000-square-foot factory and office complex.
While Al Dente has a national influence, it maintains local ties. Al Dente's first retail customers, such as Arbor Farms Market, continue to carry the pasta, and the business partners with local restaurants for special events.
Ann Arbor's Paesano Italian Restaurant featured a rotating menu of Al Dente pasta dishes this summer to mark the 30th anniversary, and Deschaine said she hopes to work with Zingerman's Roadhouse and The Raven Club on special events that will showcase Al Dente.
Al Dente offers 26 different flavors of dried pasta, all packaged in a trademark cellophane bag with the oval checkerboard logo, from egg fettuccine to organic wild mushroom and egg fettuccine.
Janet Miller is a freelance reporter for AnnArbor.com.