Posted on
Sun, Jun 9, 2013 : 5:56 a.m.
All About Furniture breaks into retail market after furnishing student rentals and high-rises
By Ben Freed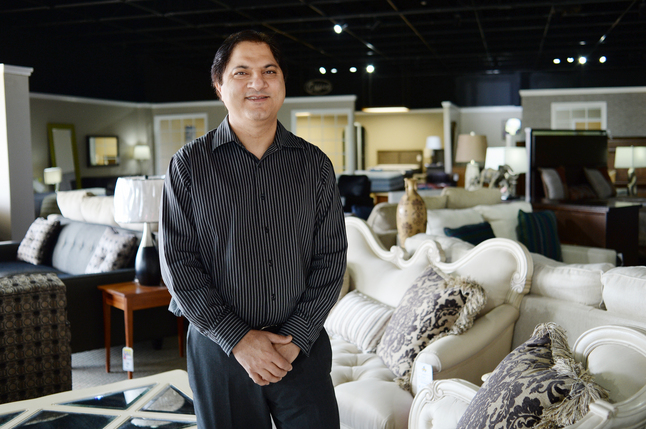 Melanie Maxwell | AnnArbor.com
Sanjay Panjwani
, owner of
All About Furniture
, has spent the past 12 years growing his company from humble beginnings in a basement, to a grand opening slated for June 15 for his new 20,000-square-foot showroom.
While it takes a lot of effort to grow a company, Panjwani — owner of All About Furniture — made sure every step of his business developed in the most organic ways possible.
"I have never spent a dollar on advertising," he said, while giving a tour of his new retail space on Jackson Road near Zeeb Road in Scio Township.
"I get all of my business from knocking on doors and word of mouth. It's been a lot of knocking on doors though, I will say that for sure."
Panjwani moved to the United States in 1997 and came to Ann Arbor from Houston, Texas in 1999. He worked for now-defunct Globe Furniture Rentals for two and a half years before starting his own company.
He slowly worked his way up from his initial basement operation space, beginning by renting 1,000 square feet in the same building as the Salvation Army and Bargain Books stores before moving to a larger warehouse on South Industrial Highway.
Unlike many furniture sellers, Panjwani did not attempt to sell to families buying a new home or students moving into a rental property. In order to turn profits without the benefit of a large showroom, he turned his attention to what he considered the bigger fish in the market.
"My main business has always been selling to landlords and businesses, mostly managers of off-campus housing properties," he said.
"I furnish all of the apartments at Zaragon, and the ones managed by CMB Management, Oxford Proporties, Campus Management, and a number of other management companies."
By his estimation, Panjwani has furnished between 75 and 80 percent of downtown Ann Arbor rental properties as well as many office spaces around town.
"When I first started, there was a big demand in this area because furniture being sold for student apartments was cheap but the quality was just not that good," he said.
While he started out by searching for higher-quality products to sell to the management companies, Panjwani began to design his own furniture two years after opening his own company as well.
"Landlords would come to me with problems like having doors that were too small to fit the couches through because American couches tend to be very big," he said.
"So I started looking for solutions and came up with designing our own couches that have smaller arms so they fit through things more easily. Really just making simple improvements."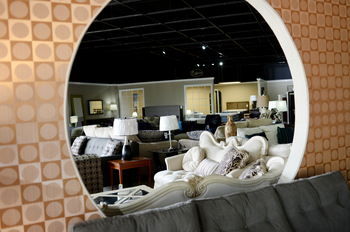 Melanie Maxwell | AnnArbor.com
From couches, Panjwani has branched out into designing computer desks, coffee tables and bed frames, most of which find their way into student-living complexes.
"I try to design with an eye toward college kids so I make things that are simple, very durable and very difficult to break," he said, while standing on top of one of his glass coffee tables.
"The problem I have now is that my stuff is not breaking, but I guess that's a very good problem to have."
According to city documents, the building All About Furniture now occupies at 5301 Jackson Road was sold in a foreclosure sale in January 2012 to Chelsea State Bank. A company registered to Panjwani, VS4, LLC, bought the space in November 2012 for $825,000.
"The retail business is a whole different ballgame," Panjwani said.
"It wasn't something that I initially wanted to go into but the building was foreclosed and the price was right so I thought I would take a chance and try the experiment."
All About Furniture has no relation to the previous tenants, House of Sofas, which closed in 2011 due to a down economy and business fatigue.
Panjwani said he already has started to see a bit of that fatigue and plans on hiring more people in the near future to supplement his staff of four employees.
"With having the retail store you have to lose something to gain something," he said.
"You lose some of the family connection time that is really important to me because now I have to be open seven days a week and it's my store, so I have to be here almost all of the time."
With his retail business growing, Panjwani expects sales to top $2 million in 2012 and plans to expand his off-campus furnishing by expanding to cover Michigan State student housing in East Lansing next year.
Ben Freed covers business for AnnArbor.com. You can sign up here to receive Business Review updates every week. Reach out to Ben at 734-623-2528 or email him at benfreed@annarbor.com. Follow him on twitter @BFreedinA2.