Posted on
Sun, Aug 1, 2010 : 6:02 a.m.
Alley Bar reopens Tuesday under ownership of the BTB/Good Time Charley's team
By Paula Gardner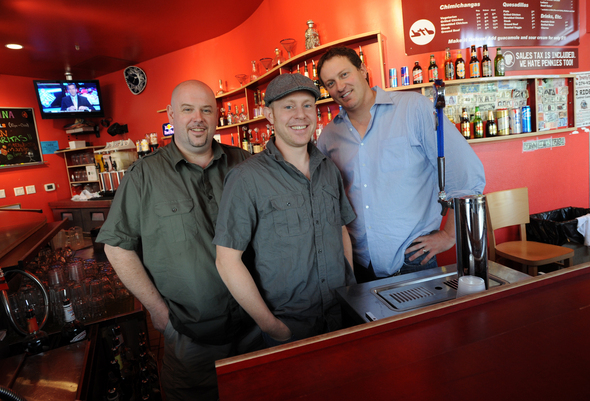 Melanie Maxwell | AnnArbor.com
An Ann Arbor-based bar and restaurant group that grew around the University of Michigan campus now is turning toward downtown this week when it takes over operations of The Alley Bar.
The partners behind BTB Burrito and Good Time Charley's bought the business in late July, planning to reopen it on Tuesday after taking it over today.
Longtime downtown bar owner Andy Gulvezan, who died in February, founded the Alley Bar at 112 W. Liberty. It's small - 1,500-square-feet according to city records - and known as a "townie" type of place. There's no food, no upscale décor and no outside seating.
Now, as Justin Herrick and Adam Lowenstein take it over, little will change, Herrick said. That includes the name.
"It'll be a dive bar," Herrick said, "with high-end options on the menu."
He continued: "We're not trying to change it too much. We want to fix what can be fixed … but we're going to keep the relatively same feel and atmosphere to it."
Former bartender Robbie Schulz will be returning to the bar, bringing with him experience at high-end Detroit establishments. He's partnering with general manager Paul Drennan, who runs Good Time Charley's, to build the right spectrum - ranging from basic beers to craft cocktails - for their new stint at the Alley Bar.
Both say they've also been clients of the bar, and look forward to leading the BTB partnership's expansion beyond the student market.
Herrick and Lowenstein bought Good Time Charley's in 2007, turning it into a leading student bar. In 2009, the bar topped the list of liquor sales in Washtenaw County, according to state records. The upper level, meanwhile, is BTB Cantina, a restaurant with the menu of the group's other two BTB locations in Ann Arbor.
With the acquisition of Good Time Charley's, the owners learned they like running bars, Herrick said.
"It's a little easier (than a restaurant,)," Herrick said. "And more profitable."
The pair's existing businesses are built on a student-oriented clientele, so moving downtown "diversifies our customer base," he said.
The business had been listed for sale over recent months, said Jim Chaconas of Colliers International, who also is helping Gulvezan's family explore options for the Full Moon, which has been closed for several months.
For the Alley Bar listing, several potential operators were interested, but it was the BTB partnership's track record that helped drive the deal, Chaconas said.
Over recent years, as Gulvezan battled cancer, the bar suffered from some inattention. However, its fundamentals remained sound, Chaconas said. Part of that, he added, is its reputation as a destination for customers who simply want a drink in a casual environment.
"This is where average people go to drink," he said. "It's a place to have a beer or watch sports. It's not pretentious."
And while many establishments on Main Street have to turn to food and high-end menus to cover the downtown Ann Arbor overhead, The Alley Bar's size and lack of a food menu was part of the appeal of taking it over, Herrick said.
Over the first few weeks, Herrick plans to make minor changes to the bar. One may be rearranging the seating; a bathroom renovation will come soon. After the liquor license transfer in 4-6 months, some more minor modifications could follow, including the addition of seasonal outdoor seating.
There are no plans to add kitchen facilities. Staffing will launch with 5-7 employees besides Schulz. It will be open Monday through Saturday, from 7 p.m. to 2 a.m.
Schulz said he's excited about the opportunity to return to bartended in downtown Ann Arbor, and also to design a drink menu. He's also looking forward to building relationships with customers who appreciate the Alley Bar for what he makes it.
"A dive bar," Schulz said. "And I want to embrace that."
Paula Gardner is Business News Director at AnnArbor.com. Contact her at 734-623-2586.