Posted on
Thu, Mar 31, 2011 : 1:55 p.m.
'American Pickers' looking to finalize itinerary for Michigan visit as Ypsi-Arbor Bowl sign goes up for auction
By Angela Smith
Got any spare motorcycles?
Maybe a collection of unique University of Michigan football memorabilia?
How about some gangster-related keepsakes from the Prohibition era?
These are some of the top items that the "American Pickers" hope to snag on their upcoming trip to Michigan.
"American Pickers," a popular History Channel antique show in its third season, follows Mike Wolfe and Frank Fritz, as they scour the country for items that can be restored, recycled, or resold.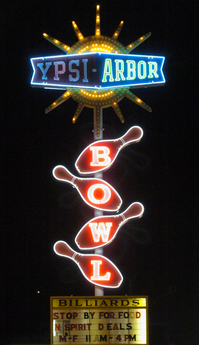 AnnArbor.com files
One man's trash (or is it stash?) is another man's treasure, so goes the saying and the philosophy behind the popular program. The hosts stop at nothing to uncover and restore memorabilia and collectibles — even if it means diving into piles of junk or getting chased by a gun-wielding homeowner.
Show producer Jeff Eggleston confirmed on Tuesday that the show will be coming to Michigan, but said the itinerary is not set. The show plans to shoot in the area sometime between April 12 and April 24, he said.
AnnArbor.com reported on March 17 that the show had shown interest in the neon sign owned by Ypsi Arbor Bowl, which plans to close on May 1.
"We are still looking for eight to ten of the 'best picks' — the best Michigan has to offer," Eggleston said.
What makes a great pick? The best characters with the largest and most unique collections.
Here's producer Eggleston's wish list:
Prohibition/gangster stuff: In reading up on Michigan history, he has found a deep Michigan connection to Prohibition. Eggleston hopes to find a landmine or "maybe an old car with a rum-runner compartment."
Detroit auto industry items: Cars, collections, keepsakes, anything related to our local auto companies.
Michigan sports memorabilia: Unique pieces related to any of Michigan's college or professional sports teams.
Motorcycles! The show's team would love to find someone near the Motor City with a large collection to pick through.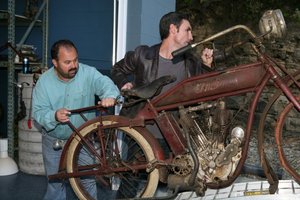 Courtesy of "American Pickers"
Eggleston didn't mention the iconic Ypsi/Arbor Bowl sign. But that doesn't mean the show isn't still interested. The sign and many other bowling alley fixtures have gone to an
online auction that began today
. Bidders can choose among pinsetter parts, pool tables, bar mirrors and 1,200 other items.
By this afternoon, the sign had no recorded bids, but New Center Consulting, which is running the auction, reports that "American Pickers" offered $3,000 for the sign before the auction began. The firm also said a national sign museum had offered $3,500 for the sign.
The online auction is scheduled to remain open until the end of April, past the time frame for "American Pickers." Once the auction closes, the firm plans to offer a garage sale-style benefit party where people will have one last chance to take home a piece of Ypsi/Arbor Bowl's history.
If you know anyone who may have items to pick, you can contact the show's researcher, Jack, at 646-873-6257 or email americanpickers@cineflix.com.
Angie Smith is a freelance reporter for AnnArbor.com. You can reach her at angieannarbor@gmail.com