Deals of the Year 2010
Company of the Year:

Amid year-long business growth, Zingerman's successfully navigates bid to expand iconic deli

Posted on Fri, Nov 5, 2010 : 11:08 p.m.
Ann Arbor is a town that prides itself on its history, its character and its entrepreneurial spirit. And we like to think of ourselves as unique.
Only a portion of Ann Arbor businesses can say they meet all of those criteria. And of those, just a handful can lay claim to the term "iconic."
Yet that's exactly how the Zingerman's brand is regarded both here and across the U.S. It evokes the image of Ann Arbor as a group of retail products backed by the essence of the company: Quality ingredients, creative presentation, exceptional service and, driving it all, a social conscience.
Started in Ann Arbor in 1982 by Paul Saginaw and Ari Weinzweig, the genuinely iconic deli grew into a family of 8 businesses in 2009 when the Zingerman's Candy Manufactory opened; within months, Zingerman's Coffee Co. expanded.
This year, changes at Zingerman's Roadhouse also took root, as the west Ann Arbor restaurant became home to a weekly farmers' market, providing a high-profile venue for locally grown food sales and ensuring its place in driving the area's "locavore" movement.
All of those business moves have grown annual revenue to $37 million.
Amid that success, last spring Zingerman's took another step to grow: It sought a multi-million dollar expansion of the Detroit Street deli complex that will add 10,430-square-feet of new construction to its Kerrytown business.
All of those steps combined with the company's foundation of growth and success to result in Zingerman's being named "Company of the Year" at the 6th annual Deals of the Year awards presented by Business Review.
With the effort to expand its namesake deli on Detroit Street on the edge of Kerrytown, the company returned to a vision from a few years earlier, when another version was submitted to city officials, who did not allow the demolition of adjacent historic houses.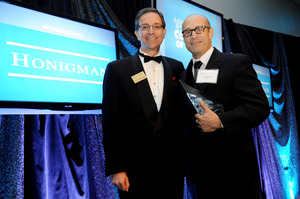 Melanie Maxwell | AnnArbor.com
This time, Zingerman's retooled its plans to make it more palatable to historic preservation efforts. But it also allows the business to significantly expand, with a goal of adding 65 employees after the work is done.
Zingerman's received city approvals in early fall, then it was awarded a $6.7 million brownfield tax credit from the state in October. Both clear the way for the work to begin in 2011.
Now new construction will replace a fire-damaged home on the Kingsley side of the Zingerman's corner at Detroit Street. The new space will include kitchens, bathrooms, dining space and an elevator. Moving work space from the deli will allow renovations in that building to increase restaurant area, and retail space also would be expanded. Outdoor dining areas will be improved, too, and a second historic structure affected by the expansion will be preserved.
Just as significantly, the new construction will allow the business to continue to grow but in the Zingerman's footprint: With deliberate, team-supported change that preserves the essence of the company.
By pursuing the new construction, Zingerman's told Ann Arbor that it wanted to commit to the city where the deli has made its home for nearly 30 years.
But it also told Ann Arbor that it's not content to be static in that long-time home. The company has a vision for positive change for its business, and by extension, for Ann Arbor.
"We just really want to develop an efficient and well-designed and unified plan that's going to take us over the next 25 to 50 years," Grace Singleton, one of the company's managing partners, told city planning officials this summer.
Beyond the deli, the principles driving Zingerman's provide a backdrop of success to the company - and a roadmap for other businesses. Key to that is the respect and investment in locally driven commerce. It's a message that resonates in Ann Arbor and also, via Zingerman's, makes this area stronger.
As Zingerman's co-founder Paul Saginaw says as part of his role as vice chair of the national Business Alliance for Local Living Economies, "We want to help create and energize local … economies throughout the country, believing that the solutions to a better economic system is one based on local economies."