Posted on
Sun, May 20, 2012 : 5:59 a.m.
Andy French of Aubree's Pizzeria talks about the restaurant industry, expansion plans
By Lizzy Alfs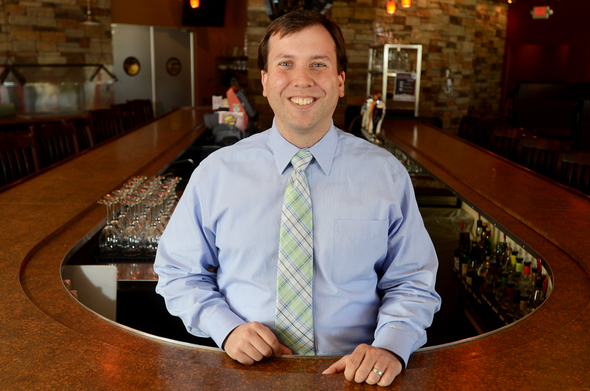 Melanie Maxwell | AnnArbor.com
When
Andy French
's parents opened
Aubree's
in
Ypsilanti's Depot Town
in the 1970s, the goal was for it to become a corner bar hangout spot.
In the early years, and even up until 2003, more than 80 percent of the bar's revenue came from alcohol sales while food took a backseat.
"We made a decision to transition our business, even at a point where we were doing very well. We thought, for our long-term success, we would need to go into food and offer more than alcohol." - Aubree's CFO Andy French
Fast-forward to 2012, and the restaurant — which now has five locations in Michigan — has successfully switched its focus to become a family-friendly pizza eatery. The restaurant's food menu, even at the original Depot Town location, now accounts for about 70 percent of sales.
"We made a decision to transition our business, even at a point where we were doing very well," explained French, the vice president and chief financial officer. "We thought, for our long-term success, we would need to go into food and offer more than alcohol."
French, along with his parents and co-owners Sandee and Bill, also recently began franchising their restaurant concept, and the first Aubree's franchise location opened in Dexter last summer.
With sales continuing to grow at the restaurant's various locations and heavy interest from people looking to open additional Aubree's franchises, Andy French is making time to look at statewide issues facing the restaurant industry at his newly-appointed role on the Michigan Restaurant Association's Board of Directors.
The MRA — a group that aims to enhance the hospitality industry and represents more than 4,500 restaurants statewide — has 22 board members that are nominated and then appointed by the association. Board members meet quarterly to discuss issues and goals in the industry, and there are various committees that board members join.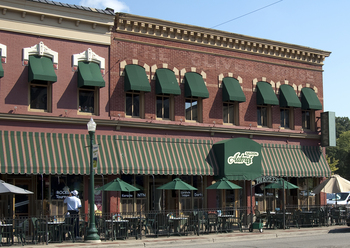 aubrees saloon
Michigan restaurant industry
Statistics from the National Restaurant Association:
In 2012, Michigan's restaurants are projected to register $12.6 billion in sales.
There were 16,069 restaurants in Michigan in 2010.
Restaurants in Michigan employ 374,800 people, or 9 percent of total employment in the state.
A study says 1 in 4 restaurants close or change ownership in the first year.
French is participating in ProStart, a nationwide, two-year program for high school students interested in the restaurant industry. He also hopes to leverage his position to look at policy issues.
"I think that there are opportunities — and I'm still pretty green in the process — but there is a chance to help," he said. "There are challenges with liquor license transfers and when you take over a former restaurant, the policy on how the former owner's insurance rating transfers to the new owner."
He added: "It can make it difficult to expand and succeed, especially in the early years of a new restaurant."
French, who grew up in Ypsilanti and lives in Ann Arbor, feels passionately that restaurants enhance a community. But it's an industry with an extremely high failure rate — one Ohio State University study says one in four restaurants closes or changes ownership in the first year — and French said it's critical to constantly evaluate a business' performance, look and menu.
"We work on really having a handle on our costs," he said. "In this industry, you can lose money very quickly, whether it be commodity prices spiking or having excess staff you may not need. It's important for the success to stay on top of those things."
Although the Dexter location is now up and running and renovations were recently completed at the Ypsilanti Township restaurant, French and his parents don't plan on resting anytime soon.
French said a goal this year for Aubree's is to build on the delivery business, which already accounts for about 30 percent of sales at the Aubree's in Ypsilanti Township.
Another goal: Selling additional franchise locations, possibly bringing the popular restaurant to Ann Arbor.
"Our focus and energy is on selling franchises," French said. "We are in conversations with three different investors who are interested in adding locations and we're hopefully going to make it happen."
Lizzy Alfs is a business reporter for AnnArbor.com. Reach her at 734-623-2584 or at lizzyalfs@annarbor.com. Follow her on Twitter at http://twitter.com/lizzyalfs.