Posted on
Mon, May 27, 2013 : 1:07 p.m.
While Ann Arbor adventurers slow down, their celebrated ecotourism business will continue
By Julie Edgar
When you've spent three-plus decades traveling the world, what happens when you retire?
That's a question Will and Joan Weber get a lot as they prepare to hand over the reins of their eco-travel business Journeys International to their daughter, Robin Weber Pollak, after 35 years in business in Ann Arbor. They'll greet the end of an era with a weekend-long celebration in September.
The Webers believe their company was among the original — if not the first — to embrace an ethical movement now loosely called ecotourism. In the broadest sense, it means responsible travel to natural areas that conserves the environment and improves the welfare of local people.
Journey International's trips — which range from $2,500 to $4,500 — offer a comfortable and authentic experience.
Journeys International grew out of a deep love for culture and travel. In the mid-1970s, Will was living in a small village in Nepal as a volunteer and trainer. Joan came to visit and stayed on as an English teacher.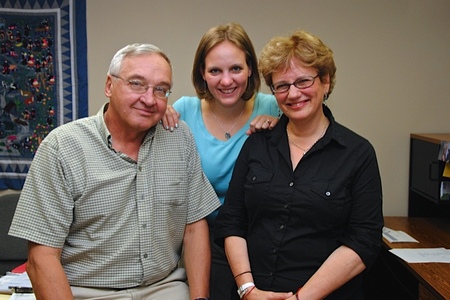 When they returned to Ann Arbor to finish their doctoral degrees — his in natural resource planning and management, with hers in psychology and education — they talked incessantly about their time in Nepal. They couldn't understand why, when friends showed them brochures, it was so expensive to travel there and why there were ''layers upon layers of guides,'' Joan says.
So the Webers took it upon themselves to organize a 25-day Himalayan trek, drawing on their contacts and their knowledge of Nepal. A business was born for the couple and for the late Pemba Sherpa, their mountain guide.
Until his death a few years ago, Pemba led many of JI's trips in the tiny country. Now, his son Nawang Sherpa has taken over, just as the Webers' daughter Robin will.
"The business model we established had everything to do with putting interested, curious people with people who live in countries they're visiting, who can show how they live, what environmental issues there are," said Joan. "We looked for amazing people to take care of the people we send."
The company runs about 400 trips each year for individuals, couples, groups and families.
Helping local economies, a cornerstone of the ecotourism ethic, led the Webers to establish the Earth Preservation Fund, which has provided more than 100 grants to community-based programs all over the world, among them building a community library in Ladakh, India, teaching traditional weaving skills in Peru and protecting turtles in Kenya.
The company has been recognized for the richness of its trips, more recently by National Geographic Traveler, which last year selected Journeys International's 's trip, Burma: Trek to the Last Village, as a 2012 Tour of a Lifetime. In 2008 and 2009, National Geographic Adventure ranked Journeys International as one of the world's best adventure travel companies.
Ecotourism, part of the sustainable tourism market, is a key agent in reducing poverty and attracting development financing in underdeveloped countries, says the Center for Responsible Travel. And it is gaining momentum.
In 2007, the last year for which there is hard data, ecotourism captured $77 billion of the global travel market and was expected to grow with rising concern about global warming.
Robin Weber Pollak, 30, returned to Ann Arbor about a year ago after earning an MBA from George Washington University in Washington, D.C. She doesn't plan to move away from the company's core mission, but she'll focus on communicating with a new generation of travelers, helping them to learn more about the world, creating libraries and developing JI's staff.
"What I really love is helping participants gain new insights about themselves and the world," Robin said. "Even we gain new clarity with every trip. It helps us broaden our views in such powerful ways. The transformative possibilities keep me going."
Since they formed Journeys International in 1978, the Webers have crossed many oceans and many bridges — the literal and metaphorical kinds. Business suffered following the events of 9/11, which grounded flights and had travelers asking for their deposits back.
For a long time, people made travel arrangements on short notice; today, they book a year in advance, says Joan.
"It took a couple years before people regained their confidence in traveling," said Will.
Still, there's the challenge of convincing people that some places are not as bad as what they see on the news.
"Bad experiences can happen anywhere, but when you're in a destination where there's bad news generated, it's much worse if you're at home watching on CNN," Will said. If they warn travelers about anything, he says, it's security-related delays at airports.
The business employs eight full-time staff members in Ann Arbor and many more abroad. Some of them will make the trip for the 35th anniversary Jamboree from Sept. 27 to 29.
"We're approaching this Jamboree as an opportunity to show people our hometown, our wonderful autumn, the Huron River," said Joan. "We're excited to look at Ann Arbor through a different lens."
The Webers are expecting about 40 of their guides — including Nawang Sherpa — from places including Uganda, Brazil and Turkey and another 100 or so people who've traveled with the company for three days of celebration.
The weekend will include storytelling at the Michigan Theatre, travel presentations at the Michigan Union, a bird walk, a photography workshop and more.
"It's a handoff, in a way," Joan said. "It's kind of a retirement celebration, but it'll be very much a cross-cultural blessing for the next generation and the future."
Adds Will: "We have a chance to return the favor of hospitality bestowed on us hundreds of times."
Then, they'll retire.
The Webers will no longer lead formal trips, but that hardly means they'll stop moving.
Will Weber, 65, is intrigued by Greenland, a place he's never been but plans to visit at some point. Joan Weber, 62, loves Central America and plans to spend time there.
But for now, Will plans to cultivate a new interest in raising native plants and an older interest in birding. He says he'll work on local and international environmental causes.
In the near future, Joan plans to unpack her memories, working with some 50,000 photos and her writings throughout the years. She'll hang out with the people who've traveled with her throughout the years, continue studying Spanish, and of course take the occasional trip, mostly in the Americas, she says.
"I'm saving most of Western Europe for when I'm very old."
Julie Edgar is a freelance writer for AnnArbor.com.