Posted on
Thu, Dec 31, 2009 : 6:09 a.m.
Ann Arbor area looks for signs of uptick in economy in 2010
By Paula Gardner
The story of 2009 started with the economy and it ends there, as fear generated by the financial freefall in January gives way to hopes that 2010 will bring stability - if not recovery.
The year saw both the Ann Arbor area and national unemployment rates climb above 10 percent for the first time in decades.
---
Related Story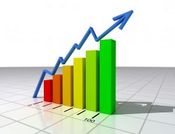 ---
And it was a year when auto sales dipped to just above 10 million - the tip of a spiral that pulled in national job losses and corporate bankruptcies by automakers and suppliers.
The nation also watched the fallout from the late 2008 financial collapse as the stock market hit 12-year lows in March, a month after Congress passed a $787 billion stimulus plan.
So what characterizes 2009?
"It's year we want to look back at and never see again," said Bill Miller, general manager of the Charles Reinhart Co.
Miller cited the uncertainty that dominated so much of the year, especially with the residential real estate market. Prices fell, foreclosures rose and the industry had to adjust to changes like new appraisal rules.
Yet, the Reinhart company is ending the year with 7 percent higher sales totals than 2008, Miller said.
"That's not overwhelming," he said, "but better since the market seemed like it was worse than the year before. We're going to end the year good and solid - and profitable.
"… In general, we're looking for a stronger 2010."
The year is ending amid some signs the U.S. economy has hit the bottom:
• Holiday sales were up over 2008.
• Residential real estate unit sales are up, including in Washtenaw County.
• Personal income is rising.
• Growth in the gross domestic product is expected to show fourth-quarter growth after a third-quarter turnaround.
Many of these signs are counter-balanced by others. One example is interest rates on home loans, which are projected to climb as much as 250 basis points from where they hovered around 5 percent at year-end. Another is the state's budget shortfall: According to the Associated Press, a Michigan Senate Fiscal Agency report estimates the state's general fund and school aid fund combined could be more than $1.8 billion short for the 2010-11 fiscal year.
But in Ann Arbor and across the U.S., many experts say job growth is the key to economic stability.
Locally, unemployment hit 9.4 percent in August, dropping to 8.8 percent by October - a decline state officials attributed to seasonal hiring at the local universities.
That was up from 6 percent a year earlier, and just under half of the state's 15.1 percent unemployment average that month.
The national number just hit 10.2 percent in November - and some economists predict it will continue to climb.
In Michigan, the state forecasts that unemployment could average 16.1 percent in 2010.
Ken Polsinelli, senior vice president at Ann Arbor-based McKinley Inc., said the downturn in commercial real estate will take five to seven years to work through. That downturn is characterized by increasing vacancies in retail space, offices, and multi-family housing, along with a lack of financing for any of those types of properties.
Prices for commercial properties will continue to fall, Polsinelli said. And lending will only loosen for the most conservative deals.
But Polsinelli is seeing slight upticks. Like in apartment occupancy across the 28,000 units in the company's management portfolio. And in clients talking about retail expansion.
"There's not as much fear out there," Polsinelli said. "I'm not seeing people as worried about the unknown."
Still, recovery comes down to one thing, he said: Job growth to fuel the rest of the economy.
"Until we see significant employment growth, (the economy) won't come back," Polsinelli said.
Ann Arbor SPARK CEO Mike Finney and his economic development team have pursued jobs for the region for several years.
In 2009, he points to some companies that continue to grow, like Adaptive Materials, and some new arrivals, like Systems in Motion.
"All indications are we'll probably have a nice steady pipeline of activity … that will locate in the area in 2010," he said.
Finney bases that on inquiries into his office and work his team is doing now.
Other indicators also point to job growth. Startup activity is one.
"We've not seen any slowdown," Finney said. "The pace is up 50 percent or so from the previous year,"
Three SPARK incubators are at least 70 percent occupied - the one in downtown Ann Arbor is full.
Finney also said companies are contacting SPARK about the availability of employees with knowledge-based skills. SPARK averaged 30-40 calls a month for much of the year.
"That spiked in November and December to about 70," Finney said. "… As companies start to ramp up their hiring, we know there's expansion potential out there."
Finney also watches national indicators.
"It's clear that we've stabilized," he said. "As a country we've stabilized, and I think that's helped Michigan.
"It's going to be painful for a while to move away from automotive (manufacturing) … but I think we're on a path to do that," Finney said. "I think the entrepreneurial activity represents the future of the state of Michigan. It's not going to have a big impact in one year. But five years from now, we'll be pretty excited about (it)."
Paula Gardner is Business Director of AnnArbor.com. She can be contacted by email or 734-623-2586. Follow her on Twitter.