Posted on
Sat, Apr 16, 2011 : 5:56 a.m.
Ann Arbor area McDonald's stores plan to add dozens of jobs as chain seeks image turnaround
By Nathan Bomey
Have you had your McJob today?
Fast-food chain McDonald's is launching a national hiring campaign Tuesday with plans to add 50,000 workers.
Owners of seven of Washtenaw County's 16 McDonald's stores said they collectively plan to hire between 53 to 72 new employees.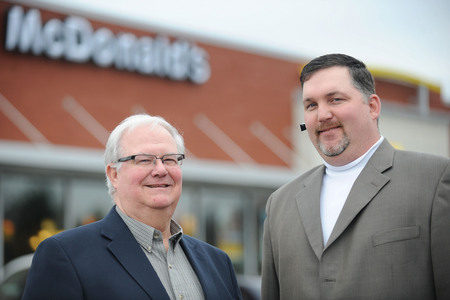 Angela J. Cesere | AnnArbor.com
The hiring campaign reflects a bid to improve the image of working at McDonald's and to draw in better talent to accelerate what the analysts have described as a significant improvement in service over the last few years.
Al Fellhauer, who owns the store on Michigan Avenue near Sam's Club in Pittsfield Township and the store near U.S. 23 in Milan, is hopeful that the national hiring campaign will undercut the "stigma" of working at McDonald's that still exists in some people's minds.
"Ten years ago we were the joke of comedians and that has really slowed down a lot. But I think that the caliber of employee at McDonald's now is much, much better than it has been for a long time," he said. "We have a pretty good story if people take the time to look at it."
Indeed, analysts say McDonald's outpaced its competitors during the global economic crisis, renovating stores, strategically adding locations and introducing new products that drove a sales increase while other chains stagnated.
Total revenue at McDonald's rose from $23.52 billion in 2008 to $24.07 billion in 2010 while profits rose from $4.31 billion to $4.95 billion, according to Yahoo! Finance.
Now, the chain wants to improve the image of working there. Owners argue that working at McDonald's is not a dead-end job. They say crewmembers often work their way into management positions — and even sometimes into ownership or corporate positions.
Monique Vann-Brown, who owns the stores on Washtenaw Avenue in Pittsfield Township and Ecorse Road in Ypsilanti, grew up working at a McDonald's in Oak Park, Mich.
Although she spent a "long stint in the automotive industry" after earning engineering and MBA degrees from Purdue University, she returned to the Golden Arches in summer 2009 by purchasing her two stores.
Vann-Brown said she hopes the hiring campaign "addresses the gaps between the external perception and the internal reality of working for McDonald's."
"A lot of the critics disparage McDonald's jobs and there's a lot of misperceptions that exist in America about employment opportunities at McDonald's," Vann-Brown said. "We believe that now is the time to take a step forward and celebrate the quote-unquote 'McJobs' that we proudly offer."
Applying for a job at McDonald's

The fast-food chain on Tuesday will conduct interviews at all of its stores with plans to add 50,000 employees nationwide.
Here's how to apply:
Visit McDonalds.com/Careers to file an online application. Most stores are conducting open interviews on Tuesday, but check on timing and procedure in advance. Some stores will provide computers to help employees file applications on site.

Owners said the benefits of working at McDonald's include a social atmosphere, an opportunity to learn basic customer service, the chance to improve communication skills and the opportunities to advance.
"Companies like to hire McDonald's workers because we train them well, they have good experience in process, they learn different functions — anywhere from handling money to marketing — and it's a great place to not only start, but grow," said Toni Rodgers, who owns the stores on Plymouth Road in Ann Arbor, Carpenter Road in Pittsfield Township, North Huron River Drive in Ypsilanti and Washtenaw Avenue in Ann Arbor.
Still, critics say that the McDonald's jobs are low-paid and representative of a general trend in Michigan's economy toward low-paid, low-skill jobs.
The "food services and drinking places" sector is expected to add 784 jobs from 2010 to 2013, according to economic forecast recently conducted by the University of Michigan.
Part of that sector is "limited service eating places," such as fast-food restaurants, which are expected to add 221 jobs during that period.
McDonald's says it employs 32,300 people in 544 restaurants in Michigan. The average store brings in annual sales of about $2 million and spends about $559,000 on wages and benefits.
Storeowners readily acknowledge that many of their entry-level employees start at minimum wage, which is $7.40 an hour.
But they also say that good employees have a chance to advance. The company says that 70 percent of its managers, 50 percent of its corporate workers and 30 percent of its owners started as crewmembers.
"You can go all the way up," Rodgers said. "You have full potential to do anything."
Fellhauer said salaried workers start around $30,000 a year with store managers making more than $50,000. He said his goal with the national hiring event is to attract some experienced employees. He's looking for about five workers overall.
"I would like to get a couple management people out of it," he said. "That would be very nice."
Contact AnnArbor.com's Nathan Bomey at (734) 623-2587 or nathanbomey@annarbor.com. You can also follow him on Twitter or subscribe to AnnArbor.com's newsletters.