Ann Arbor's Cheryl Elliott highlighted in CNBC documentary on Baby Boomers
Posted on Fri, Mar 5, 2010 : 4:37 p.m.
Ann Arbor-area viewers tuning in Thursday night to a CNBC documentary on Baby Boomers may have been surprised to see some familiar faces and places.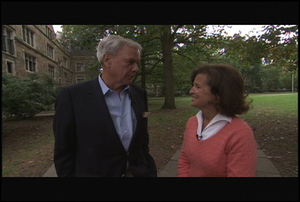 Source:www.boomercafe.com
"Boomer$! History's wealthiest and most influential generation," hosted by Tom Brokaw, started and ended with segments featuring the University of Michigan and some local residents like Bruce and Cheryl Elliott.
"I was honored to be a part of it," Cheryl Elliott said today.
The broadcast was taped in fall 2009 during the University of Michigan homecoming weekend. Contacts in the U-M Alumni Association ended up connecting the crews to the Elliotts, who joined three other U-M graduates assembled in the Law Quad for the interview with Brokaw.
The crew came to U-M early in the production process, Elliott said, because they wanted to focus on the impact the Baby Boomer generation - generally people born in 1946 to 1964 - had on the economy.
The two-hour documentary touched on many aspects of the Baby Boomer experience, telling the story through interviews with former President Bill Clinton, actor Tom Hanks and even the couple whose photo taken at Woodstock ended up symbolizing the event and the generation.
Elliott's piece of the experience started out as hours of filming - with the group at the Law Quad, then later during a 3.5-hour taped walking conversation with Brokaw - but ended up only lasting minutes during the program.
Still, the reach of the program - and its many promotions - yielded many calls and emails before the program and today after friends, family and acquaintances viewed it.
Elliott, president and CEO of the Ann Arbor Area Community Foundation, said she was nervous about watching the program with her husband, a local attorney, and some friends.
The experience was positive, Elliott said. She enjoyed talking with Brokaw, whom she's admired over time.
It also brought back memories of a definitive time in her life, when she came to Ann Arbor for college during a time when the country - and the campus - was challenging authority.
"It exposed me to so many ways of thinking," she said. "College should do that, but it was a very exciting time. It was fun to look back and remember that."