Posted on
Thu, Nov 19, 2009 : 6:15 a.m.
Ann Arbor area's Hyundai-Kia America Technical Center emerges strong from auto crisis
By Nathan Bomey
Angela J. Cesere | AnnArbor.com
Hyundai-Kia Automotive Group's smooth navigation of the global auto crisis has shielded the Korean automaker's Ann Arbor area engineering operation from job cuts and positioned the facility for future growth.
"Right now we're pretty comfortable where we are," said Dan Bedore, manager of Midwest media relations for Hyundai. "(But) there's plenty of room for growth in the facility."
The Superior Township-based Hyundai-Kia America Technical Center, which employs about 170 workers, has steadily gained more responsibility during the auto crisis. The Hyundai and Kia brands have collectively grown their North American market share from about 5.2 percent in 2008 to as much as 7.4 percent in 2009, according to various reports.
The company's South Korea base has been delegating more work to the Superior Township operation in recent months as the local engineers show their value to the company, Bedore said.
The 200,000-square-foot building is positioned on a 140-acre parcel, which is comparable in size to the mammoth ex-Pfizer land in northern Ann Arbor.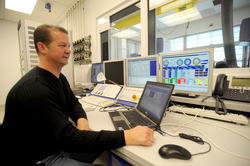 Angela J. Cesere | AnnArbor.com
Hyundai's vehicle sales increased 49 percent in October 2009 from a year earlier, and Kia's sales increased 45 percent. Toyota, by contrast, increased sales 1 percent, General Motors 4.7 percent and Ford 3.3 percent.
High marks for quality, intuitive marketing campaigns, cost-effectiveness and fuel efficiency are boosting Hyundai and Kia, experts say.
"They're a pretty aggressive company right now," said Bruce Belzowski, assistant research scientist at the University of Michigan's Transportation Research Institute. "They're working really hard to gain market share in whatever area they're at. It's something that they're going to continue to do."
Hyundai-Kia America Technical Center
Location: Geddes Road in Superior Township
Size: 200,000-square-foot facility; 140 acres of land
Employees: 170
Stability: No job cuts during auto crisis
Function: Engineering, design, compliance, safety testing, simulation
Local history: 1986, opened an Ann Arbor lab near the Plymouth Road EPA emissions facility; fall 2005, expanded to Superior Township location



Direct injection
engine revealed

Hyundai-Kia on Friday is expected to show media a new four-cylinder engine developed in part at the Superior Township facility. It's reportedly Hyundai's first direct injection engine, technology that provides incremental fuel efficiency improvements.

The new engine will be used in the 2011 Hyundai Sonata, the automaker's best selling model, a sedan that competes directly with the Toyota Camry and Chevrolet Malibu.

Hyundai-Kia officials recently gave AnnArbor.com an exclusive tour of the Superior Township facility, the first media tour since the technical center opened its doors in fall 2005. The multi-purpose facility has grown to 170 employees and avoided job cuts during the economic crisis.


-Nathan Bomey, AnnArbor.com

Michigan Gov. Jennifer Granholm said in 2005 that Hyundai-Kia would hire 600 workers over several years at its Superior Township facility.

The subsequent collapse in the auto industry has made growth of that kind unlikely. But Hyundai-Kia's stability allowed the company to shield its workers from job cuts - a sharp contrast with the rest of the industry. The company currently has job openings for three engineers in Superior Township.
"It was an extremely challenging year for the entire industry this year and (we) did not let people go in the midst of that. In fact, we added a few jobs," Bedore said.
Doug Fox, owner of the Ann Arbor Automotive dealership on Jackson Road, which sells Hyundai and Kia vehicles, said sales have increased because Hyundai-Kia vehicles achieve cost efficiency without giving up quality or styling.
"The market seems to be headed in that direction," said Fox, also chairman of the North American International Auto Show. "We're just very, very fortunate to have these value-oriented brands."
Improvements in quality have placed the company on par with its top competitors, a remarkable reversal since the company's early days, when subpar quality pummeled its U.S. reputation. The automaker's new luxury vehicle, the Genesis, won the North American Car of the Year at January's Detroit auto show.
"They actually have pretty good cars now, and their quality is significantly better than it used to be," Belzowski said.
Fuel efficiency is partly driving Hyundai's strategy. New federal regulations implemented by the Obama administration earlier this year require auto companies' vehicles to average 35 miles per gallon by 2022. Hyundai said it would meet that figure by 2015, in part by introducing its first hybrid to the U.S. market in late 2010.

"It's our intention to be the leader in fuel economy of all automakers," Bedore said.
Contact AnnArbor.com's Nathan Bomey at (734) 623-2587 or nathanbomey@annarbor.com. You can also follow him on Twitter.