Posted on
Sun, Jul 14, 2013 : 5:58 a.m.
Ann Arbor Art Fair: What does the future hold for downtown's long-standing event?
By Lizzy Alfs
By now, we know the drill: During the third week in July, about 500,000 people will descend upon downtown Ann Arbor for a four-day, juried art festival that showcases work by more than 1,000 artists.
In its 54th year, the Ann Arbor Art Fair — which is actually four simultaneous fairs running July 17-20 — has become a staple of Ann Arbor summers.
Fair organizers report the economic impact of the Art Fair on the community is huge; it generates an estimated $78 million in shopping, hotel and restaurant spending. It's coined one of the largest art festivals in North America, drawing artists from 38 states and four countries this year.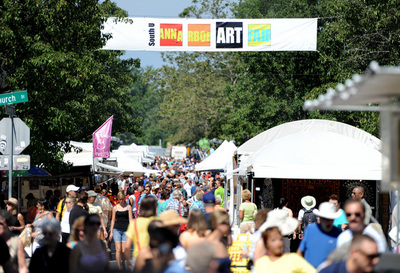 AnnArbor.com file photo
To the average fairgoer, the Ann Arbor Art Fair might have a familiar feel year after year. But behind the scenes, the fairs' lead organizers are making constant tweaks to the event and asking themselves: What can we improve?
An evolving art festival
It took a half-century for the Ann Arbor Art Fair to become what it is today.
The event started as an "experiment in arts in crafts" in 1960, featuring work of 132 artists on two blocks of South University Avenue. The original fair was later named the Street Art Fair.
The State Street Art Fair started in 1968, followed by the Summer Art Fair in 1970. In 2000, Art Fair Village was set up on Church Street, later becoming the South University Art Fair when the original Street Fair relocated to the Burton Carillon Tower area. (Read more about the history)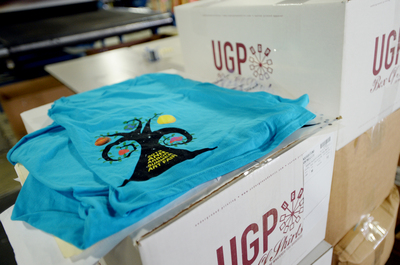 Melanie Maxwell | AnnArbor.com
Together, the four fairs now span 30 blocks of downtown and near the University of Michigan's campus.
But as the art fair grew in size and popularity, organizers started hearing complaints about accessibility.
"There were many years where there was a lot of criticism about how crowded the fair was, and we take that seriously," explained Maureen Riley, director of the Ann Arbor Street Art Fair. "We look at where logs are in the traffic flow, and we fix those."
"Then, we looked at statements about the art fair being too big, and asked, 'What can we do to ease or enhance our visitors' experience?'" she continued. "That led to the development of the Art Fair Trolley."
This year, the fair also added a fourth shuttle option, which is located at Huron High School.
"That's very exciting," Riley said. "We're thrilled to be able to provide that service for visitors coming from that direction."
Ann Arbor Summer Art Fair Director Max Clayton said over time, they've also made a number of technology updates, from introducing an Ann Arbor Art Fair iPhone application to creating a digital art category.
"There's this constant adaptation of what the computer means to art," she said.
The art fair organizers are always looking for new ways to keep fairgoers interested. Interactive artist booths and live music stages create buzz among attendees.
Competition?
Each summer, there are dozens of art festivals in Michigan alone. From Arts, Beats & Eats in Royal Oak to ArtPrize in Grand Rapids, the state's art scene is thriving.
According to the Washtenaw County Economic Impact Analysis, $114 is spent per travel party per day during the Ann Arbor Art Fair, and $263 if those visitors are staying in hotels.
Mary Kerr of the Ann Arbor Area Convention & Visitors Bureau said many of the Ann Arbor area's hotels reach full occupancy during art fair.
"When you had the recession in full swing, you definitely saw art fair attendance diminished throughout the country," Clayton said. "But what's really incredible is that right now, attendance is better than ever and I'm seeing that at all of our events."
But with so many art events in the state, it raises the question: Are there pressures to compete with other festivals and attract artists to the Ann Arbor Art Fair?
Like the Ann Arbor fair, ArtPrize in downtown Grand Rapids draws an estimated 500,000 people to the 19-day event, which is an art competition juried by the public with a $200,000 top prize. It has garnered national attention since its inception in 2009.
"I applaud ArtPrize immensely for just the idea and implementing it," Riley said. "It's a different animal than the Ann Arbor Art Fair in that the art fair artists make their living by going to different art fairs to sell their work. They are small business people that travel the country."
AnnArbor.com file photo
Added Clayton: "I think they are complementary, and I think what ArtPrize is doing is extremely interesting and it will be a model for a lot of new events across the country."
Any art-related event that gets Michigan national recognition is a bonus in the arts world, they said.
Maggie Ladd, director of the South University Art Fair, said attracting quality artists to the Ann Arbor Art Fair has never been an issue; the majority of artists return if they are invited back.
"(The Ann Arbor Art Fair) has quality, size and longevity," she said. "We've been industry leaders for a long time."
Visions for the future
Although the fair is always being improved, there is still work to do, the organizers said.
Ladd said for the Ann Arbor Art Fair to remain "cutting edge," they need to invest in things like an Android application, social media and a joint art fair website.
"Keeping the fairs cutting edge and keeping up with everything we need to do to maintain our standards — that's where the competition comes in," she said. "Those things are all very expensive and very hard for nonprofits to pull off."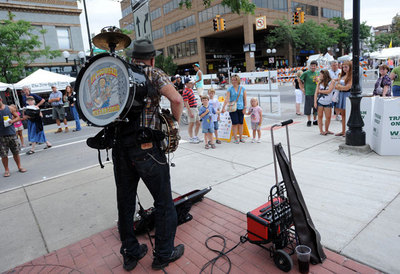 Melanie Maxwell I AnnArbor.com file photo
The art fair directors also discuss other changes, like shifting the days of the fair or expanding the entertainment offerings, but that would require input from the artists, merchants and city, and it's probably not something that would happen anytime soon.
"We daydream a lot about what we could do," Clayton said. "What about something where artists could display their work in various places around Ann Arbor year-round? Should we shift the days from Wednesday to Saturday, to Thursday to Sunday?"
"I don't think we are in a position right now to make a major change, but I think we're in a position to assess what we're doing and how we're doing it," she added.
As for the size of the fair, the directors agreed: At the moment, it's ideal.
"I would never want to make this fair so big that it becomes truly hard for a fairgoer to enjoy it," Clayton said. "But I want it to remain one of the largest fairs in the country, because that is who we are and how we built our reputation."
Lizzy Alfs is a business reporter for AnnArbor.com. Reach her at 734-623-2584 or email her at lizzyalfs@annarbor.com. Follow her on Twitter at http://twitter.com/lizzyalfs.