Posted on
Wed, Jul 20, 2011 : 1:01 p.m.
Downtown shops plan discounts, sidewalk sales during busy Art Fair time
By Angela Smith
As thousands of residents and visitors hit the streets of Ann Arbor for Art Fair, retailers are planning special sales on many downtown sidewalks.
"Art Fair is truly Ann Arbor's busiest time of the year — we are a fortunate city to be able to host such an event," said Stephanie Wickham of Four Directions at 211 S. Main Street.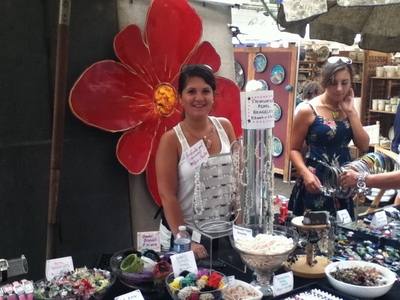 Angela Smith | For AnnArbor.com
What can shoppers expect from this year's sidewalk sales? Deep discounts and inexpensive merchandise at each of the four fairs' shopping districts. But there's no telling what the weather could bring.
In remembering back to past fairs, Wickham laughed at the idea of expectations.
"Art Fair can't come with expectations because it is certain that every year has some sort of crazy thing happen ... tornadoes, heat, rain. ... The best we can do is try to keep everyone mentally ready for the big event by talking about it and remembering funny times from previous years. After all, we've been fortunate to be here for 17 years," she said.
Nevertheless, Four Directions is planning to highlight a particular item this year, as in past years. This year, the store's focus is on wrap skirts.
"Also, we are carrying tried-and-true favorites: Our glass pendants, thousands of glass pieces to choose from and watches — familiar styles as well as some new styles that we've never had before," she said.
Orchid Lane's sidewalk sale looks like a part of the fair itself. The shops' fair trade clothing and accessories fit in well with the offerings of the street vendors. But many of the store's artisan items sell for $15 or less, below some vendor prices.
Leif Elias begins preparing for the sidewalk sale in late May. The store stocks and prices about one to two months' worth of merchandise to sell during the fair.
"The Ann Arbor Art Fair is Orchid Lane's time to shine, to new and old customers alike," Elias said. "We have a large street presence, due to our two locations next to each other (Orchid Lane and Orchid Lane Warehouse at 419 and 421 E. Liberty respectively) and we like to put on a good show."
Melissa Bryant of Organic Bliss at 117 E. Liberty is just a few blocks down. Bryant also sells many fair-friendly products and knows just what to expect for the next four days: "I expect it to be hot and chaotic!"
Art Fair is the only time of year that the store offers any sales, and she said she plans to promote the shop's most popular items.
"So far, summer business has been pretty steady so I think that trend will continue (through Art Fair) week," she said.
Underground Printing has three Ann Arbor locations, each of which are located within the fair's vicinity: South University, North University, and their newest, on Main Street.
Owner Ryan Greg said the new location is having no difficulties adjusting to high demand during the fair.
On top of customer sales, the print shop provides the commemorative shirts for all four of the fairs that make up Art Fair.
New to downtown this year is Himalayan Bazaar at 218 S. Main St. The shop is showcasing Himalayan clothing and jewelry, and visitors will get a chance to try out a henna temporary tattoo for free.
Owner Heather O'Neal knows that keeping cool also is a top priority for shoppers during Art Fair.
"We'll be sure to have the air-conditioning on, and we'll have some 'Just Like Himalayan Glacier Water' (ice water) on hand for shoppers," she said.
Angela Smith is a freelance contributor for AnnArbor.com