Posted on
Sun, Nov 22, 2009 : 6:03 a.m.
Ann Arbor's Suburban auto dealership plans to expand in 2010
By Paula Gardner
An Ann Arbor-area auto dealership is finalizing plans to expand in 2010 after learning it will hold onto all of its brands amid a nationwide industry shakeup.
Suburban Chevrolet-Cadillac-Saab-Hummer plans to start construction on a new 50,000-square-foot facility in the spring at its existing site on Jackson Road, at the corner of Wagner Road in Scio Township.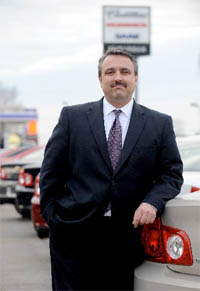 Angela J. Cesere | AnnArbor.com
General Motors Corp. just approved the change, said General Manger Mike Mosser, even as 2 of the dealership's 4 brands are being sold by the automaker.
With the facility changes, "we'll be one of the first dealers in the country (to be a part of GM's) new facility image program," he said.
The move comes as 2009 sales at Suburban climbed 27 percent, while falling auto sales overall have forced contractions in the U.S. auto industry.
Changes among the GM brands include the sale of both Hummer and Saab.
Hummer was bought in October by Sichuan Tengzhong Heavy Industrial Machinery Corp. of China.
The deal for GM to sell Saab to a European consortium, the Koenigsegg Group - which will operate under Saab Cars North America - remains in progress. The deal was announced in August, and GM said this month that 37 percent of Saab dealers would be cut from the U.S. sales network.
However, Suburban will retain both brands, as well as the two GM nameplates, Mosser said.
"We were lucky to be chosen to keep Hummer and Saab … all under one roof," Mosser said.
The existing dealership is about 40,000 square feet, and Troy-based Suburban officials sought several times to renovate it.
Scio Township officials approved the latest building plans, but GM had to sign off to keep it in line with franchise guidelines.
"We just got approved for the new facility," Mosser said.
The new building will include "green" elements and an arts and science center to show off new technology and engineering in the vehicles.
It also will include a new customer waiting area and two customer service drive-ins - one for the premium brands and one for Chevrolet. A new parking lot and exterior lighting also will be included.
Construction should start in the second quarter, with completion by October.
The changes come as the auto industry experiences unparalleled transition, and as automakers reposition themselves, cutting dealership ranks in the process. GM announced in May it would drop 40 percent of its dealers. Locally, Palmer Ford in Chelsea closed this year, and it's unclear whether more closings are planned.
But GM has reported three straight months of increased market share, according to Edmunds.com, and that trend could continue in November. Both Ford and GM reported higher sales in October.
Suburban is the 13th largest dealer group in the U.S., according to Mosser. It operates 30 dealer franchises in Michigan and five in Florida.
Suburban is the third-largest Saab dealer in Michigan, selling 500 units per year. Several of the GM models, like the Camaro, Equinox and SRX, "are basically sellout items," Mosser said. "There's nothing even inbound until December."
Saab stopped shipping vehicles about 5 months ago, he added, but Suburban "took a lot of '09s at the end of the year, so we have a lot of product."
Ann Arbor remains a competitive automotive market, Mosser said, particularly for U.S. brands.
"Ann Arbor is a very unique market because there are a lot of imports," Mosser said. "Domestic brands can struggle here. But we've found a swing back to domestic in the last couple of months."
Paula Gardner is Business Director for AnnArbor.com. Contact her at (734) 623-2586 or PaulaGardner@AnnArbor.com.