Posted on
Fri, Apr 5, 2013 : 5:58 a.m.
Ann Arbor bars and restaurants prepare for boost in business during Final Four tilt
By Ben Freed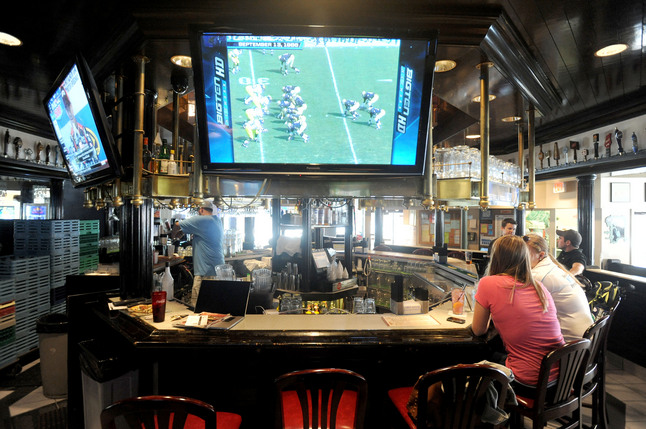 Angela J. Cesere | AnnArbor.com file photo
Related article and poll:
While some Ann Arbor residents enjoy watching the big game in the comfort of their own home, many flock to local eateries and watering holes. With the University of Michigan basketball team playing in the Final Four this weekend, the prospect of at least one big night has local sports bar and restaurant owners excited for the team and themselves.
"On a personal level as a Michigan fan there's obviously a lot of excitement," Good Time Charley's owner Adam Lowenstein said.
"But obviously every win means another day where we can expect higher sales and more business. It's just a great positive feeling and you get great interaction with a big crowd when these games happen."
For locals and bar scene regulars, the games might pose a challenge. The Arena sports bar owner Mike Flore said he expects to hit capacity about an hour before game-time.
"It's not really our normal crowd when big games like this happen," he said. "Being the main sports bar in the Main Street area, we get a lot of new people for games like this."
Lowenstein said he expects Charley's, located on the corner of South University Street and Church Street, to be full with a line out the door by 6:30 p.m. on Saturday evening, before the first Final Four game between Louisville and Wichita State tips off.
"If you want to get in to watch the game and you're there after 7, you're probably going to be out of luck," he said.
For a few South University bars, including the Brown Jug Restaurant and Good Time Charley's, outdoor screens will increase seating capacity if the good weather holds.
"If it's really nice out, or even if people can survive, they'll sit outside to watch the game," Lowenstein said.
"So if that happens we get to add a lot of extra seating. Really any time it's nice out it's a major boost for us."
The combination of the basketball game and another local event known to make people hungry has other food establishments ready for overwhelming business.
"The game with Kansas, that was our biggest day since we opened," Topper's Pizza owner Moe Baydoun said.
"With the Hash Bash on Saturday, we already knew it was going to be a big day for us. Now it's going to be huge."
Baydoun said he was blindsided by how much business he received during Michigan's Sweet 16 matchup but already has scheduled extra drivers and ordered surpluses of ingredients to make sure it doesn't happen again Saturday night.
Apparel sales have increased greatly as Michigan has gone deeper into the NCAA tournament, but bars and restaurants only are able to grow incrementally business during the big games.
"Initially you get that big round where everyone orders food and a drink, but then once the game starts everyone is just basically camping," Flore said.
"You get a few people that will eat throughout the game, and people will order another drink or two, but over 50 percent of the sales are done within the game's first 10 to 15 minutes."
Most owners said they would make about double what they would make on a regular night thanks to the game, but the timing of the semifinal isn't helping them.
"Saturday is an anomaly both because it's a Saturday night, which is always busy, and because it's Hash Bash which can mean a big night also," Lowenstein said.
"When the game was at 2:40 on a Sunday like last week it was huge for us because usually that would be a really slow day."
Banfield's Bar & Grill owner Will Banfield said even though there's a limit to how much more money can be made, this weekend could be the biggest the restaurant has ever seen.
"This is bigger than the super bowl or anything else like that because it's a local team and it's been so long since Michigan basketball has been up at the top," he said.
"I still remember back in 1989 when we won the whole thing, that was the biggest day we ever had."
Banfield said he gets a mix of regulars and new customers at big games and that his success is tied to the team's.
"Most of our customers will keep buying as the night goes on," he said. "Especially if we win, then they stay later and that's the real key."
Ben Freed covers business for AnnArbor.com. You can sign up here to receive Business Review updates every week. Reach out to Ben at 734-623-2528 or email him at benfreed@annarbor.com. Follow him on twitter @BFreedinA2