Ann Arbor-based Borders to sell Paperchase unit for $31 million
Posted on Tue, Jul 13, 2010 : 9:28 a.m.
Borders Group Inc. will sell its Paperchase Products Ltd. stationery unit to British private investment firm Primary Capital Ltd. for $31 million, the bookseller said Tuesday.
Shares rose 5.4 percent to $1.55 in thin premarket trading.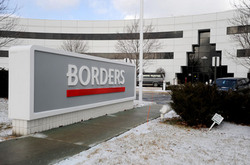 The move is Border Group's latest to cut costs and improve profitability since financier Bennett LeBow invested $25 million in the retailer in May, becoming the company's largest shareholder, chairman and CEO.
Borders will continue to buy and carry Paperchase products in its U.S. stores. The Ann Arbor-based company bought a majority interest in Paperchase, based in the U.K., in 2004 for $24.1 million.
It will use $25 million of the proceeds to reduce the amount outstanding under its $90 million term loan credit facility. The deal is expected to close within the next week.
Borders has been struggling for several years as it faced falling demand and increasing competition from discounters and online book sellers.
The company in May reported a first-quarter loss as revenue fell 16 percent from a year earlier to $547.2 million, hurt by a drop in U.S. sales. The company has recently launched an electronic book reader and plans to beef up its online operation.
"The sale of our Paperchase business is another major step in strengthening our balance sheet and enables us to place an even greater focus on our financial and strategic initiatives, which are vital to a Borders turnaround and revitalization of the brand," said President Mike Edwards.