Posted on
Thu, Jun 14, 2012 : 5:10 a.m.
Ann Arbor-based Everist Genomics announces joint venture with Bangalore's Manipal Group
By AnnArbor.com Staff
Everist Genomics, a personalized medicine company based in Ann Arbor, announced May 22 that it had established a joint-venture company with the Manipal Group, one of the three largest healthcare sector companies in India.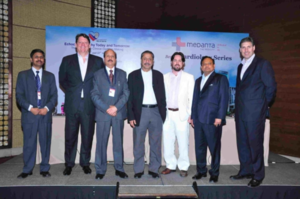 PRNewsFoto/Everist Genomics
The joint venture will market EGI's portfolio of diagnostic, prognostic and therapeutic selection technologies in India.
More than 350 cardiologists attended a medical conference organized by one of India's leading cardiac centers, Medanta Hospital in Delhi, at which EGI's two new mobile health diagnostic systems for cardiovascular disease, AngioDefender and CardioDefender, were introduced.
AngioDefender and CardioDefender integrate sensor technology with mobile digital services, smartphones and other mobile devices to provide monitoring and diagnosis of cardiovascular conditions that traditionally have been limited to observation through on-site hospital diagnostic systems.
The joint venture will enable EGI's product to reach new markets through Manipal's network of healthcare operations, which includes 15 hospitals, nine primary care clinics and 55 community health centers.
Sign up for the weekly Business Review email newsletter here.