Posted on
Sun, Nov 25, 2012 : 5:59 a.m.
Ann Arbor-based Among Friends ready to sell healthy cookie mixes throughout Midwest
By Tom Perkins
When you think of "healthy food," you probably don't think of cookies.
,Among Friends Baking Mixes might change that.
Company founders Lizann Anderson and Suzie Miller have the best kind of taste testers to give them a "yea" or "nay" on potential recipes: their six kids.
"We know if it passes our kids' taste buds, then we are onto something," Miller said with a laugh.
But Miller said there is a stigma against "healthy" foods that can present a challenge to a company selling cookie baking mixes. Among Friends has overcome that, she said, by creating tasty mixes with healthy, natural and gourmet ingredients.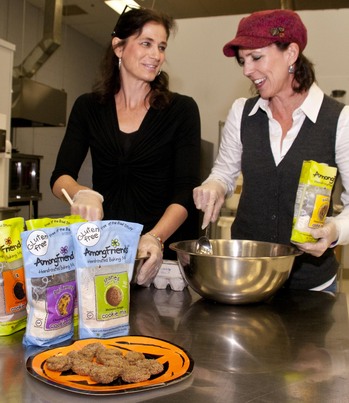 Tom Perkins | For AnnArbor.com
Their six lines of mixes have become popular in Michigan and northeast Ohio, and the company now plans to expand distribution throughout the Midwest.
To make that happen, Miller and Anderson recently moved out of an 80-square-foot commercial kitchen they created outside of Anderson's Ann Arbor home and into a 3,800-square-foot facility near Ellsworth Road and Airport Drive in Ann Arbor.
Miller attributes Among Friends' success to both taste and branding.
The company balances health and taste, which is where having picky kids becomes an asset. They avoid artificial ingredients and use mostly organic. The gluten-free lines use certified gluten-free oats and flour, and their products come without white rice flour and starches that leave a beany, gritty aftertaste common to gluten-free baked goods.
Among Friends also doesn't use extra sugar to "camouflage or add extra taste," and the mixes are high in protein and fiber.
Miller said another key to their success has been resisting the temptation to force a gluten-free or healthy recipe where it simply won't work. Not all recipes lend themselves to the ingredients Among Friends utilizes, and they don't market the recipe if the taste is a little off or it's too challenging.
Miller said Among Friends develops delicious recipes through a time-tested method.
"There's a way to do it and it's called trial and error and spending a lot of time trying recipes," she said. "We got to the point where we won't put a recipe out there that we don't absolutely love."
Miller said customers have also come to love the brand because they can connect to the story behind it. Among Friends was launched by two friends who shared a love of baking for their kids and their friends.
Each mix is inspired by and named after a family member or loved one.
"I really think people can relate to the story," Miller said. "Among Friends was born out of a love for baking healthy treats kids love to eat. There's an emotional connection there that they can relate to.
"And once people get the treats in their mouth, they just can't believe how good they are."
Miller and Anderson met through their parents while living in Toledo and became instant friends. They began baking together and found they were the perfect counterweight to one another's need for taste and health.
They began selling small bags of cookies to friends for several dollars, and soon people began placing larger orders. That led to them building their own small commercial kitchen at Anderson's house and selling to grocery stores. Six years later, Among Friends is eyeing national growth.
Among their varieties are:
Suzie Q.'s Oatmeal Chocolate Chip Cookie Mix
Evan's Heavenly" Spelt Oatmeal Raisin Cookie Mix
Trish the Dish Any Kind of Fruit Crisp Mix
CJ's Chocokrinkle Cookie Mix
Phil 'Em Up Chocolate Cranberry Cookie Mix
Shane's Sweet-n-Spicy Molasses Ginger Cookie Mix
Each package yields about 30 cookies and they sell for $5 to $7.
In southeast Michigan, shoppers can find Among Friends mixes at Whole Foods, Plum Markets, Hillers, Arbor Farms, Busch's and more.
The expansion will take the company to more than 30 new Whole Foods stores in the Midwest and to many other local grocery stores. Miller said Among Friends is also in talks with Meijer, and said she is happy there are now four workers to take on all of the unforeseen expenses, work and challenges that come with a large-scale expansion.