Posted on
Thu, Oct 4, 2012 : 5:56 a.m.
Ann Arbor-based Whiplash expanding with more efficient merchandise system
By Tom Perkins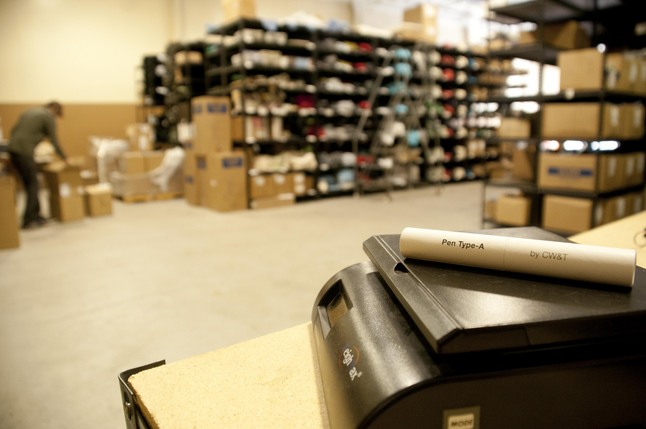 Tom Perkins | For AnnArbor.com
Two years ago, James Marks, the founder of Ypsilanti screen printer VG Kids, began handling merchandise orders for his friends' indie rock band, Modest Mouse.
As a small merchandising outfit, it was the job of Marks' new company, Whiplash Merchandising Logistics, to send out records, T-shirts, posters and other Modest Mouse merchandise ordered online.
But Marks found the system of handling merchandise was flawed — and missing as a service for small businesses, be it a band or a manufacturer.
With Modest Mouse, Whiplash had to buy the merchandise from the band, receive the merchandise, warehouse it, create a Web store it was responsible for managing, market the records and get paid in percentage of sales.
But Marks found Whiplash was better at managing the stock and shipping while allowing their clients, who know their product better, to work on the sales end. So he changed the business model.
"What we really wanted to do focus on was shipping the product," he said. "There are people who specialize in selling, and that wasn't our strongest thing. What we seemed better at was automating shipping and storing inventory, which is what a lot more people need."
Two years later, Whiplash boasts a growing list of younger, e-commerce-savvy clients and is pioneering new software that makes the system of warehousing and shipping clients' orders much easier to track and synchronize.
That has translated into quick growth for the company, which has now shipped over 40,000 packages for its clients and ships up to 900 packages a day during its busier periods.
"What we realized what was missing in the e-commerce world is a place to warehouse and ship," said Marks, who plans to add several workers to his staff of six. "We're really good at handling merchandise that companies don't want to handle."
Whiplash handles small packages and its clients are mostly smaller companies like Ghostly International or Holstee, though they have begun taken on work for larger companies like Dolby.
Tom Perkins | For AnnArbor.com
The concept is relatively simple and several companies provide a similar service, but Marks says Whiplash's ability to communicate with its customers, the company's design and accessible software make it unique.
He said laying out Whiplash's plan to customers in a language they understand has helped attract business along with the new approach.
"The more we don't use words (business owners) don't understand, the better off we are," Marks said. "With that, and design-wise and software-wise, we are making ourselves more appealing to younger entrepreneurs."
Marks said Whiplash is ideal for that kind of company. One such upstart, New York City-based Pen Type-A, had their merchandise shipped for storage at Whiplash's Ann Arbor warehouse. Pen Type-A's owners designed a new type of pen and ran a Kickstarter campaign that generated $280,000 to fund their new business.
Instead of finding their own space to store their product and spend time and resources on shipping, Pen Type A's stock is warehoused at Whiplash. When a customer orders a pen from Pen Type A's site (the pen's sell for $100 a piece), that order is registered with Whiplash, which sends it out.
Whiplash charges its clients a $2.95 fee on top of the cost of shipping, packaging and a small warehousing fee. That cost is rolled into the shipping and handling fee Pen Type-A's customers see on their website, and the customers aren't aware that their order is shipped from Whiplash's warehouse. Whiplash also partners with sites such as Shopify or Bandcamp, where some of their clients sell merchandise.
If Pen Type-A has a customer who is wondering about an order, its owners can log into Whiplash's site and see the order status. If an order has to be changed after it's in the site, Pen Type-A owners can log in and change addresses, quantity or shipping method.
Whiplash also provides an avenue into the U.S. for foreign small businesses. A small company could manufacture their goods in the U.S. and rely on Whiplash to house and mail their products. Whiplash now has a growing list of Canadian clients and some from as far away as New Zealand.
The success also comes as Whiplash introduced a new application protocol interface and other software, said Marks, who is the majority owner in Whiplash and works from Berkeley, Calif.
The new API, developed by Whiplash, allows its clients to send in orders via their own applications and websites and synchronize sales information without manually having to enter information.
That means Whiplash's clients are less involved in working with Whiplash than their competitors, Marks said. That increased efficiency came about after months of developing the system through experience.
"These early packages represent a tremendous amount of learning," Marks said. "They've provided us with an environment to experience first-hand the pain of the problems we're trying to solve. It has been like a playground where we can come up with elegant, satisfying solutions."
"The potential is huge, and it makes me feel good," he added.