Posted on
Wed, Feb 13, 2013 : 12:20 p.m.
Ann Arbor biotech company Lycera makes a second $300 million deal with Merck
By Ben Freed
Ann Arbor biotechnology company Lycera announced a collaboration with pharmaceutical giant Merck on Tuesday that could be worth more than $300 million.
The deal will continue Lycera's research into oral medicines designed to treat autoimmune diseases such as multiple sclerosis and rheumatoid arthritis. University of Michigan chemistry professor Gary Glick founded Lycera, and the company is housed in the North Campus Research Complex.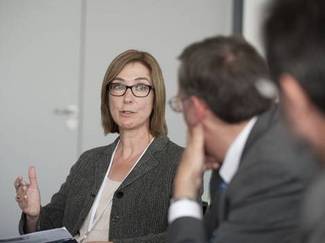 Photo courtesy of WorldHealthSummit.org
Under the terms of the new agreement, announced in a news release, Lycera will receive an upfront payment and research funding to continue its drug development work. Further payments could include research, development and commercial milestone payments.
"There are substantial unmet medical needs and opportunities in autoimmune disorders, and new targets representing attractive opportunities that we are very pleased to pursue through our new collaboration with Lycera," Merk Research Laboratory senior vice president Rupert Vessey said in a statement.
Merk will be responsible for clinical development of the drug and will have worldwide marketing and commercialization rights. Lycera is entitled to receive royalties on the drug as well as sales milestone payments.
This collaboration is Lycera's second deal with Merck. In 2011 the companies agreed to a deal that included a $12 million up-front payment and future payments of up to $295 million.
Large pharmaceutical companies often strike deals with smaller innovative companies to fund their development programs. It can take more than a decade and more $1 billion to bring a drug from development to market, and smaller companies do not often have the resources to see that process through.
Before partnering with Merck, Lycera raised a $36 million round of venture capital in 2009 that included investment from Ann Arbor fund EDF Ventures.