paparazzi:

Ann Arbor City Attorney Stephen Postema honored during Michigan Municipal League's annual Capital Conference

Posted on Thu, Apr 26, 2012 : 5:10 a.m.
The Michigan Municipal League honored Ann Arbor City Attorney Stephen Postema during the League's annual Capital Conference held March 20-21 in Lansing.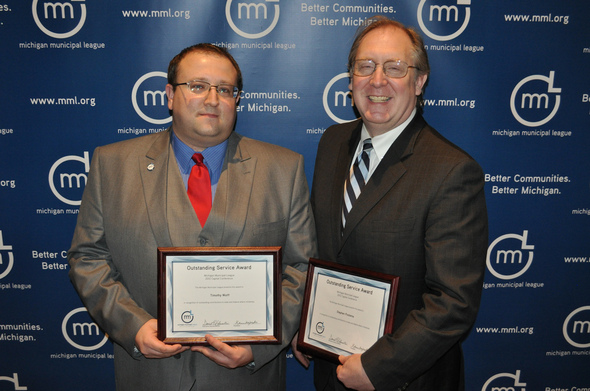 photo courtesy of MML
Nearly 500 Michigan Municipal League members from Alpena to Detroit to Grand Rapids attended this year's conference to hear sessions about brownfield tax credits, green government, the personal property tax issue, the Economic Vitality Incentive Program and more.
Postema received the league's Outstanding Service Award, given to recognize those who have gone above and beyond the call of duty in supporting the league's legislative efforts in Lansing on behalf of Michigan communities.
In his role as Ann Arbor's city attorney, Postema has been an active member of the league, including serving as chair of its Legal Defense Fund. Postema is the immediate past president of the Michigan Association of Municipal Attorneys and currently serves as chair of its legislative committee.
Lake Isabella Village Manager Tim Wolff was also honored during the awards ceremony.
• Sign up for the weekly Business Review email newsletter here.