Posted on
Thu, Apr 26, 2012 : 5:58 a.m.
Ann Arbor company acquires Dexter Crossing Shopping Center and plans for improvements
By Lizzy Alfs
Ann Arbor real estate company Oxford Cos. is expanding its portfolio yet again with the purchase of the roughly 70,000-square-foot Dexter Crossing Shopping Center in Dexter.
The center, located on Dexter-Ann Arbor Road across the street from Busch's food market, is the third real estate acquisition for the company in recent months.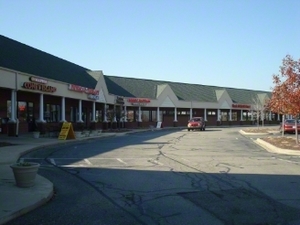 Photo from loopnet
Oxford Cos. — which owns and manages properties totaling more than 1 million square feet — raised close to $8 million last year to invest in distressed properties throughout the Ann Arbor region. The investment fund, called the Ann Arbor Opportunity Fund, uses cash raised from 40 different investors to acquire properties and turn them around.
Oxford Cos. president Jeff Hauptman, in a release, said the purchase of the Dexter Crossing Shopping Center "fits the criteria perfectly."
The company has hired an architect to develop facade improvements and a new building monument sign. It will also address deferred maintenance issues at the center, which is less than 50 percent occupied.
"Dexter is a fantastic community and this property is at its gateway," Hauptman said in the release. "We have the opportunity to do something really valuable here for the town."
Among the tenants in the shopping center: Edward Jones, H&R Block, GNC, Hallmark, Food Zone, Michigan Academy of Dance, Alpha Coney Island, T. Herrlinger Physical Therapy, Foggy Bottom Coffee House and Keller Williams Realty. The purchase does not include the Country Market Grocery Store.
The property was assessed at $2.065 million in 2012 tax year, making its estimated market value about double that. The previous owner was Blackhawk Development Corporation, registered to Joseph Bonar, according to state records.
The center has been listed for sale for several years, with a CB Richard Ellis real estate listing marketing it for $3 million. Oxford Cos. declined to disclose a purchase price.
Oxford Cos. also purchased the 12,000-square-foot Plymouthview retail center in Ann Arbor earlier this year after a bank foreclosed on the property and a fire caused about $25,000 of damage.
Hauptman said under previous ownership, funds had not been available to make necessary repairs to the center, including a complete replacement of the parking lot, and Oxford Cos. would immediately invest in those improvements.
The company also purchased 62,000 square feet of office space on South Industrial Highway, north of Eisenhower Parkway, in August 2011.
Hauptman said the company hopes to use the remainder of the Ann Arbor Opportunity Fund in the coming months and is "currently in the process of closing on two more acquisitions."
Oxford, which has raised nearly $30 million from more than 100 investors since its founding in 1998, owns several major properties in the Ann Arbor area, including South University Galleria and the Burlington Office Center on Eisenhower Parkway.
Lizzy Alfs is a business reporter for AnnArbor.com. Reach her at 734-623-2584 or email her at lizzyalfs@annarbor.com. Follow her on Twitter at http://twitter.com/lizzyalfs.