Posted on
Sun, Jun 3, 2012 : 1:06 p.m.
Focus on global business nets Ann Arbor company NuStep a Presidential 'E' Award
By Ben Freed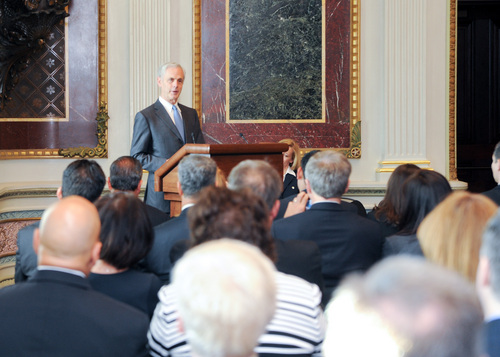 Photo courtesy of Elena Stegemann
About a year ago,
Elena Stegemann
, director of international business at
NuStep
, found a press clipping in her mailbox with a sticky-note attached. The clip was from an Ann Arbor News article that described the 1974 awarding of the Presidential "E" Award to
Sarns, Inc.
The note, from CEO
Dick Sarns
said: "How about one of these for NuStep? If the award still exists."
On May 17, Stegemann and Steve Sarns, Dick Sarns' son and vice president of marketing and sales for NuStep, were in Washington, D.C. to receive the award from Commerce Secretary John Bryson in the India Treaty Room. The award was the result of a change in focus by the leadership of the company.
"We live in a global business environment," Dick Sarns said. "American only has 5 percent of the world's population. Our goal as a company was to be a world-class company, and you can't be a world-class company without exporting."
Three years ago, when Stegemann was hired, NuStep had a distribution partner in Japan and shipped limited orders directly to Canada. Today, the company has about 20 distributers operating in 25 countries around the world. Stegemann has racked up quite a few frequent flier miles to oversee the expansion.
"I try to go to every country that we distribute in," she said. "I like to go to meet the distributors, feel the culture of the country, and make sure that we have good people there on the ground. I haven't gotten to every one yet because we're expanding so quickly, but that's the plan."
NuStep manufactures and distributes exercise equipment that is "ideally suited for the older population, and those with disease or injury that limits their motor function," according to Steve Sarns. The machine allows users to use both their arms and legs in a motion that Dick Sarns refers to as "sit-down walking." Sarns and his wife Norma founded the company after Sarns, Inc. was bought by Terumo Cardiovascular systems. The NuStep machines are designed, engineered, and manufactured on the company's campus in Ann Arbor, which also houses the marketing and sales arms of the company.
"It's a small operation as a company," Sarns said. "But we're very complete. This is our hub, and we have a lot of reasons for staying here. Ann Arbor is an address that is well known worldwide because of the University [of Michigan], we have a great talent pool here as well that spins out of U-M and the automotive industry."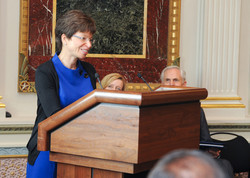 Photo Courtesy Elena Stegemann
The commitment to manufacturing in Ann Arbor was cited in the letter sent to Dick Sarns notifying him of the award as a major factor in the decision to choose NuStep for this honor. According Stegemann, overtures are often made by buyers and distributors to connect her and the company to manufacturers in China or Taiwan who could do the work for less money, bringing the cost of each unit down significantly. However, Dick Sarns is committed to keeping the manufacturing in house.
"Our primary reason is manufacturing quality," he said. "We have 55,000 units out there, and our customer service people are not very busy."
According to Steve Sarns, the company is on a 20 percent annual growth plan that will require expansion of its current Ann Arbor campus. NuStep tries to not only sell a machine, but a more healthy lifestyle.
"So much of our population is sedentary, and we cannot be a strong country with sick people," Steve Sarns said. "We're an animal species and we were made to move. It's all inertia, if you stop it's hard to get going, but once you're moving… then you're in business because you won't want to stop."
The White House awards the Presidential "E" Award every year to American companies that contribute significantly in the effort to increase United States Exports. The central criteria is that companies applying for the award must have shown significant improvement in export numbers for four consecutive years. Dick Sarns is happy with leading second team to an "E" Award, but he wants NuStep to go one step further. The "E Star" Award recognizes continued outstanding export promotion efforts.
"I'm proud to have been the leader of a team that's made a difference, and the "E" Award is a terrific recognition of that," Sarns said. "But we won't rest on this. We are a team that is continuing to move forward every day."
Ben Freed covers business for AnnArbor.com. Reach him at 734-623-2528 or email him at benfreed@annarbor.com. Follow him on twitter @BFreedinA2